JAMESON HOUSE OF ROUNDS @ THE RAILS BYRON BAY
Join us for our debut visit to Byron Bay for Jameson House of Rounds!
Jameson House of Rounds will make a debut visit to Byron Bay for a continuing celebration of music, Irish whiskey and community spirit at The Rails on Saturday, December 4. As NSW emerges from lockdown, experience a live event headlined by The Middle Kids and live performances from Mini Skirt, The Dharma Chain, Flying Machine, Full Flower Moon Band, Bed Club and more, when the iconic coastal town comes alive to the rounds of whiskey between mates.
Following a stacked tour of Sydney's favourite venues, including a 3-day mega festival at Marickville's Vic On The Park over the June long weekend, Jameson will be taking its beloved Jameson House of Rounds north to Byron Bay's The Rails. Synonymous with shining light on some of the nation's most exciting talents, and after a COVID-induced hiatus of lockdowns, Jameson House of Rounds will bring the best local names to the heart of Byron Bay.
Headlining The Rails is Sydney-bred indie-rock trio, Middle Kids. The trio have spent the past few years touring globally, seeing their gritty pop anthems play out on US late night television shows and the stages of some of the world's biggest festivals. Now, they bring their live set to Byron Bay fans, promising high energy singalongs. Joining them is local four-piece, Mini Skirt and their sunburnt brand of rock'n'roll alongside fellow Byron Bay psych six-piece outfit, The Dharma Chain. Born from garage jam sessions fusing punk and psych is Flying Machine who add to the Byron Bay talent pool, while the project of Babyshakes Dillon, Full Flower Moon Band and local jangle-pop crew Bed Club round out the stacked lineup, that'll have you reaching for second rounds of Jameson.
Jameson will take care of the drinks with a curated list for locals to enjoy on the night. Choose to kick off your stay with the NEW Jameson, Soda, Ginger & Lime Can or try a Jameson & Cloudy Apple.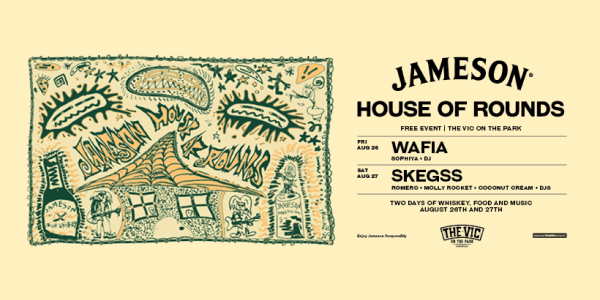 As the Jameson House of Rounds series continues to bring some of the best local names to stages across the east coast, don't miss heading to Byron Bay's The Rails for an iconic night of live music, whiskey and mateship. Arrive on time, as Jameson will also be shouting a Jameson Can alongside a Jameson x Thrills cap for the first 100 punters – don't be late!
In line with the NSW Government's current COVID-19 public health order, only fully vaccinated fans will be permitted to attend Jameson House of Rounds. Proof of vaccination or government exemption will be required on entry at the door.