A STORY THAT FINISHES WHERE IT ALL BEGAN
UNPARALLELED QUALITY AND CHARACTER

OUR HISTORY
THE BOW STREET VISION IS BORN
Back in 1780, John Jameson decided to start his own whiskey in the middle of Dublin.
Initially a small operation, Jameson Bow Street Distillery grew to one of the largest in the world, stretching across a huge 6-acre plot.
Complete with a towering brick-built chimney and an army of craftspeople over 200 strong – distillers, coopers, blacksmiths, and carpenters all worked arm in arm to keep the distillery running and the whiskey flowing.
FROM 'OUR FAMILY' TO THE WORLD
From day one, it was a family business. Not just the Jameson's, but for the generations of families working at the distillery.
The hustle and bustle above ground was always in stout contrast, to the cobwebbed underground cellars below, where barrels brimming with over a million gallons of whiskey lay maturing in darkened silence. Waiting for their moment to be sipped and shared.
As the twentieth century rolled by, the distillery was exporting whiskey to all four corners of the world. But the lovely copper stills and the narrow-cobbled streets of Bow Street, couldn't keep pace with the global demands of making and shipping whiskey to the ever-growing fans of Jameson. It was time to goodbye to Dublin, at least for now.
OUR STORY COMES FULL CIRCLE
However, like any good story, there's always a further twist in the tale. As in 1997, Bow Street once again opened its doors, this time as our brand home, attracting visitors from all over the world. The hustle and bustle returned, as we welcomed people with open arms, so they too could soak up our story, and enjoy a glass or two along the way.
As a tribute to those generations who have made Jameson what it is today, we are once again ageing our whiskey at Bow Street. Here, you will find our barrels stacked high – maturing and ready to be bottled as Jameson Bow Street 18 Years.
So, here's to history repeating itself. As, like our whiskey, some golden ages deserve to be enjoyed more than once.
THE TRUE TASTE OF BOW STREET
This is a blend of 3 extremely rare whiskeys, matured for over 18 years in hand selected European and American Oak casks at our Midleton distillery. Now here's the magic bit: they're then finished for a further 6 months in first fill bourbon barrels at our original home in Bow Street, Dublin.
This is the first time a whiskey has been matured here since 1975, and with only 84 casks of Bow Street 18 Years made at any one time, it's also exceptionally rare and limited.
Bottled at a heady 55% cask strength, expect ramped up flavours. You'll notice the fruit notes of plums, blackcurrant, and cherries in abundance. This is the pinnacle of the Jameson range, a whiskey we're proud to make and share.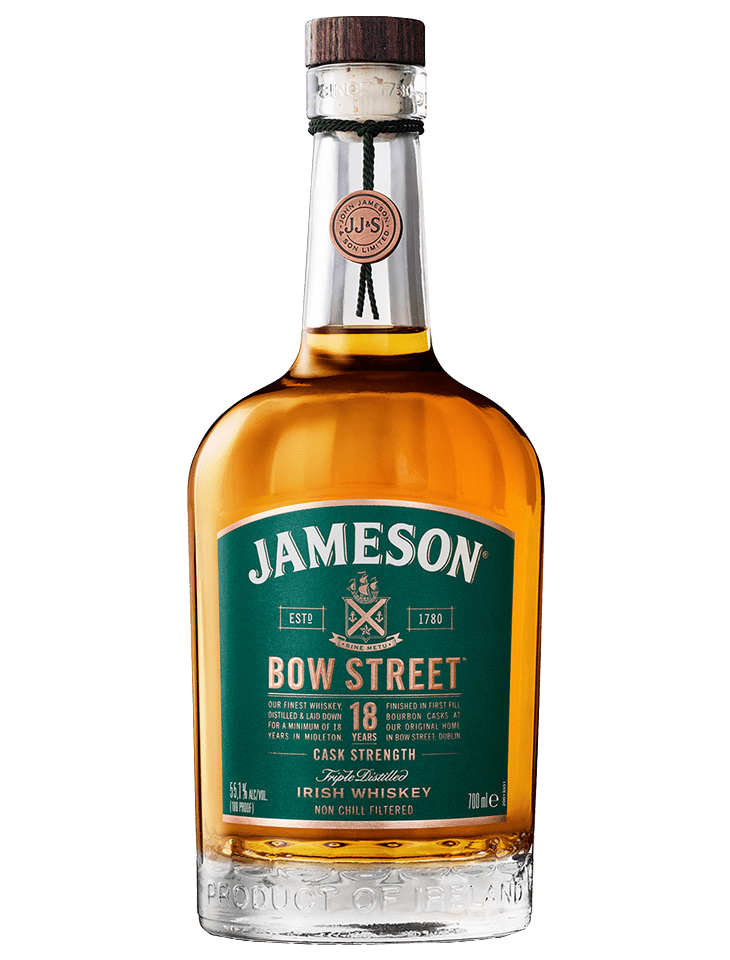 Rich wood driven influence with deep toffee notes and spice.
Toffee and oak remain consistent with hints of leather and vanilla. A subtle sherry nuttiness creates depth and complexity.
Long and full with the sweet toffee note slowly fading whilst toasted oak and spice linger.
GOLDEN-AGED JAMESON 18 YEARS
Inspired by our illustrious past, our Master Distiller Kevin O'Gorman and Master Blender Billy Leighton got together to create a whiskey that captures the very essence of what many call the golden era of Irish whiskey.
 
It's a perfectly balanced blend of 3 hand selected signature distillates that have been matured across decades before spending a final 6 months together in first fill American oak barrels, for what Kevin and Billy describe as an extra touch of delicious complexity and smooth elegance.
 
Bottled at 46% and non-chill filtered; whilst this release may be rare, its taste is full of generosity.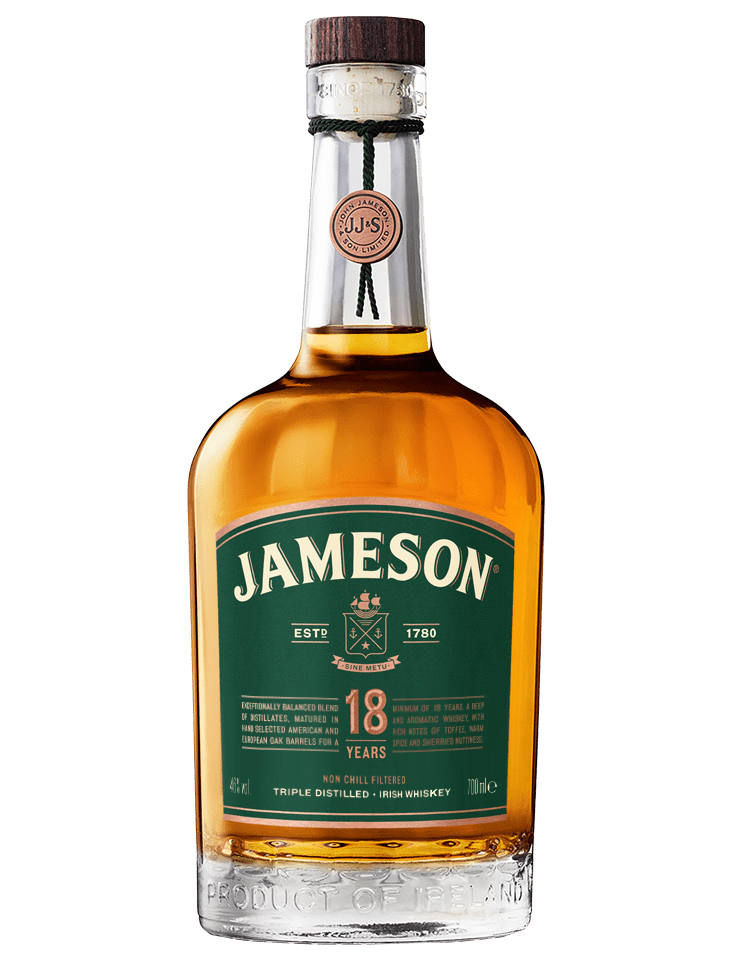 Deep and aromatic with a touch of wood and spicy toffee.
Smooth and rich, with complex toffee and spice. Hints of wood, leather and gentle sherry nuttiness with vanilla.
A long lingering finish carries the theme of the wood,spice and toffee right through to the end.
The human touch plays a massive part in selecting the perfectly aged whiskeys and the very best casks, old and new. The result for both of these rare expressions is a wonderful complex taste that is multi-layered luscious and super smooth.
Kevin O'Gorman, Master Distiller
The Bow Street distillery will always be a special place for us. It's where our story started well over two centuries ago, and to this day remains our spiritual home with a very unique place in our hearts.
Carol Quinn, Archivist