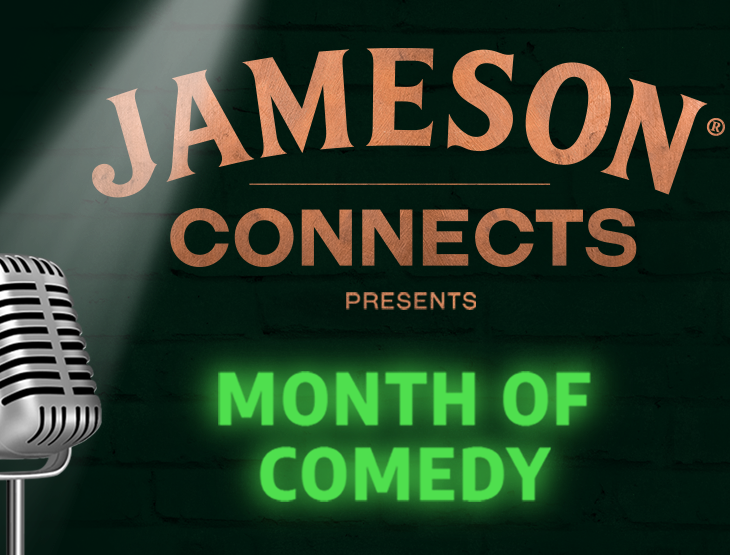 Jameson's Month of Comedy refined and re-imagined
Aligned with Jameson being an open, honest, light-hearted and witty brand, Jameson's Month of Comedy provides friends, fans and broader audiences with a space to engage with each other and share in a few laughs.
Jameson's Month of Comedy refined and re-imagined
Jameson launched its Month of Comedy platform in 2021 with an April Fools' prank on social media channels announcing that it had developed a skin-care range.
Comedy was the ideal marketing platform to demonstrate the brand's personality, with Jameson being the serious whiskey that does not take itself too seriously.
The Jameson brand is open, charismatic, honest, light-hearted and witty. The question to answer for the 2022 campaign is "How can comedy widen Jameson's circle of connections?"
The answer lay in the fact that friends of Jameson have gone and are going through a lot as a country. By positioning Jameson as the nation's therapist, the brand would widen the circle of connections by bringing people together to laugh at things that may weigh heavy on the collective spirit.
Jameson turned to social media to launch 'Isikhokho se Skits' or 'The Dogs of Skits'. The brand partnered with creators Sipho Muchindu, Khanyisa Unfiltered and Primo9teen who specialise in comedic content on Twitter and Instagram Reels, and pitted them head-to-head in a bid to find one winner for Skits-land.
During the pre-awareness phase, Jameson asked its friends and fans to suggest topics they would like the skits to focus on, with the funniest skits being selected.
The skits were filmed and "broadcast", after which the audience was challenged to submit their own skits. The best skits were rewarded with Jameson hampers and their skits added to the Jameson channels.
In this way, Jameson's Month of Comedy not only gave the brand's friends, fans and a broader audiences more to laugh at when they needed to, it was able to engage with them in a space that was ideal for comedy.