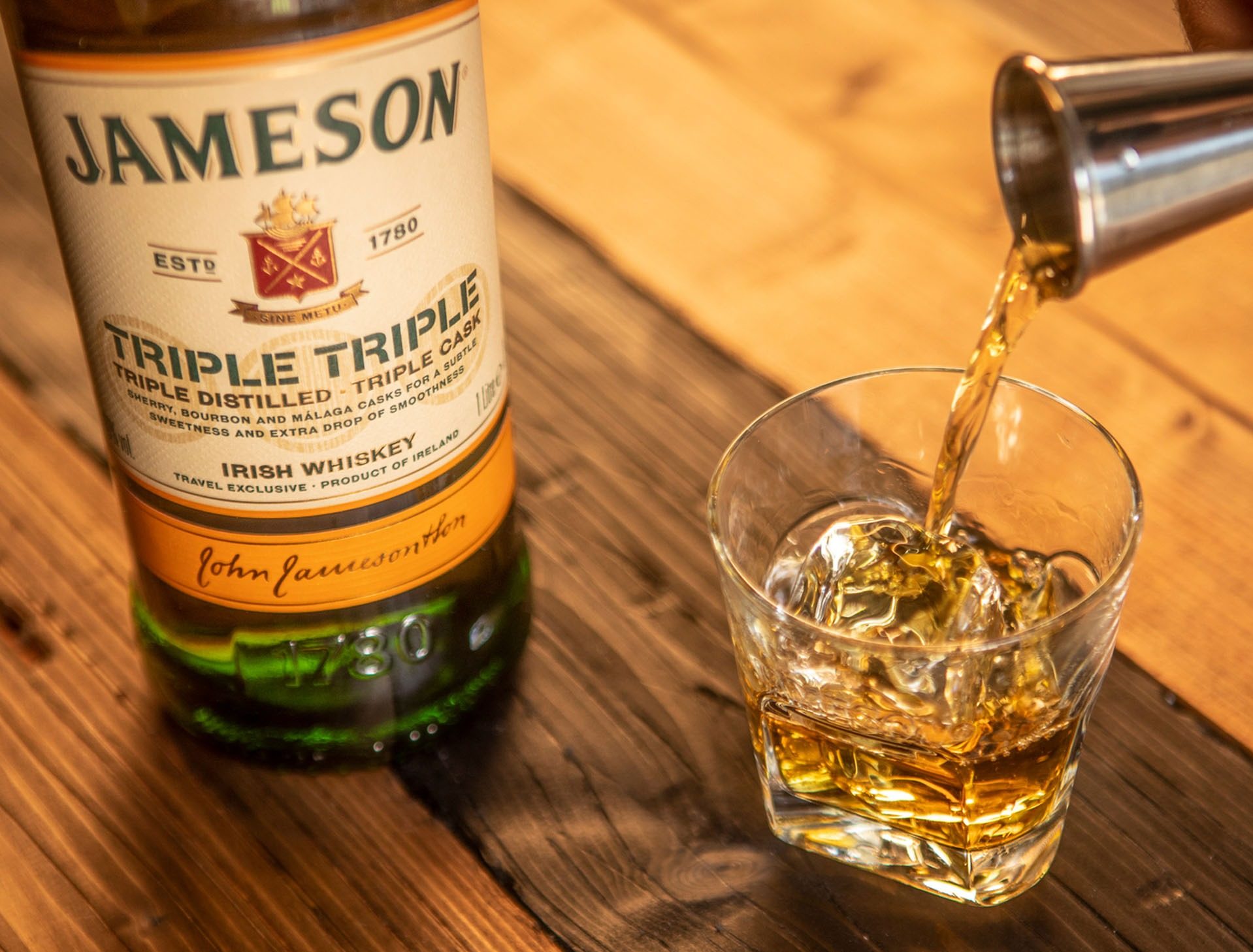 Our Whiskey
Jameson Triple Triple Distilled Irish Whiskey
Jameson Triple Triple is triple distilled and triple cask matured. We introduced our Bourbon and sherry casks to hand-selected Málaga casks. It turned out to be a match made in wood heaven. A word to the wise, you'll only find Jameson Triple Triple in travel retail.
Initial fruit notes of sweet pear that develop into zesty citrus peel with some dark fruits in the background. Hints of cinnamon and clove delicately work IN balance with the sweet Malaga wine cask influence.
Luscious, with sweet orchard fruits and light hints of blackcurrants, plums and raisins. The spices slowly build adding depth with hints of clove and black pepper, layered over the oak tannins adding dark chocolate and liquorice.
Lingering, with the spices slowly fading to reveal the fruits and oak.
Get To Know Jameson Triple Triple
What's the difference between Jameson and Jameson Triple Triple?

Jameson Triple Triple and Jameson original Irish whiskey have a similar triple distillation process, but Jameson Triple Triple is a triple threat. By blending the suave sophistication of bourbon and sherry casks with the bold flavours of Málaga casks, we've created a spirit that's simply unparalleled.
What does Jameson Triple Triple taste like?

Jameson Triple Triple is a rich and full-bodied drink that combines the sweetness of orchard fruits with subtle hints of blackcurrants, plums and raisins, creating a flavour profile fit for a king or queen.  

As you savour the luxurious drink you'll discover each layer is more impressive than the last, with complex notes of clove and black pepper.
Where can I buy Jameson triple triple?

Jameson Triple Triple is only available in a litre bottle at travel retail, so next time you're jetting off be sure to find the rare bottle.   
How much alcohol is in Jameson Triple Triple?

This whiskey boasts a bold 40% ABV while also retaining Jameson's signature smoothness. 
What can you mix with Jameson Triple Triple?
More for the Barrel Lovers