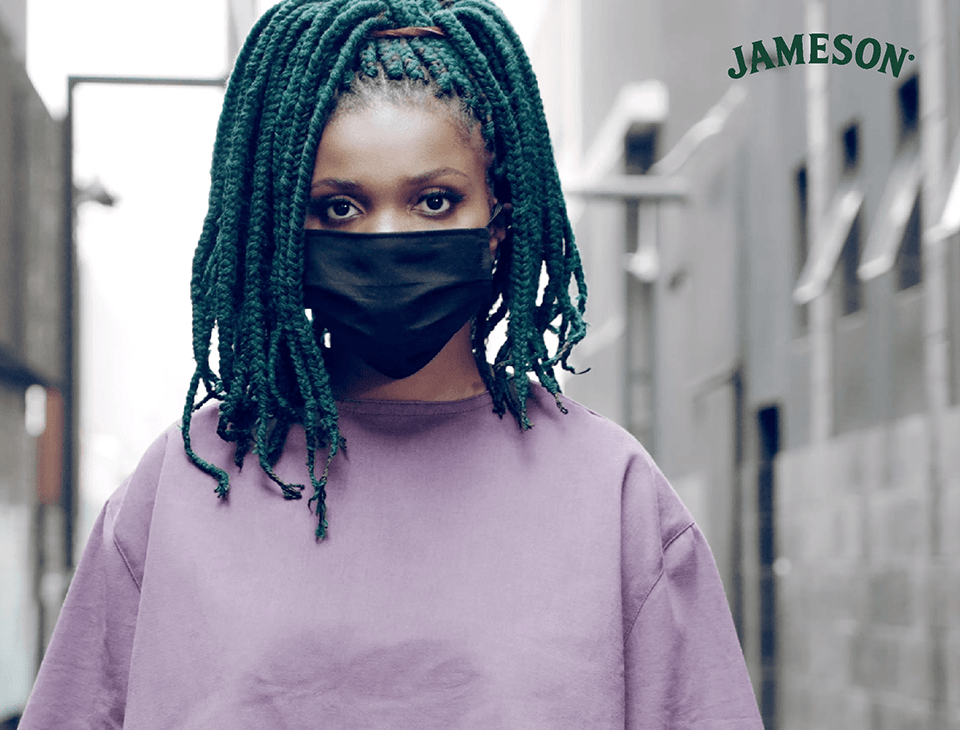 CATEGORY_MIX_DON'T_MINGLE_BELITA_ANDRE
Mix Don't Mingle Belita Andre
At Jameson, we have always been supporters of culture and the hospitality industry.
Poet Belita Andre and Jameson join forces to 'Mix Don't Mingle'
We work closely with our partners where Jameson is served to create authentic experiences where you can enjoy your Jameson responsibly in accordance with current protocols, which means wearing a mask and maintaining social distancing – the philosophies at the heart of our 'Mix don't Mingle' campaign.
For this campaign we also collaborated with the poet Belita Andre while aiming to shine a light on South Africa's hard-hit restaurant industry. Through our influencer partners and social media platforms we gave away dining experiences to three Johannesburg-based restaurants that have been impacted by Covid-19.
South African born, Andre is of Namibian and Nigerian descent, and her vast perspective on storytelling, history and art in literature saw her perform her poem Maker's Valley for the Duchess of Sussex on her 2019 tour of SA
Andre also teamed up with frequent Jameson collaborator and SAMA-winning rapper, Kwesta, to host a takeover show on Nights with Zweli on 947 where the duo performed a mash-up of Kwesta's rap and Andre's poetry.
Below find Belita Andre's poem Stay Safe, the video can be seen on the Jameson SA Youtube channel.
Stay Safe
by Belita Andre
To walk out of a dream and sip on solitary light.
Settling cloth between us as a fabric wall.
The people speak in faces that shift,
content with the dancing caress of new minds.
Tugging at textures, and music, and time.
Loyal and vivid in it's liquid strides.
So on the incessant question of survival,
regard your life as a lesson, not a rival.
when your chin grazes the belly of a cloud,
returning sight to the horizon,
do not cover the eyes that see,
Or make wound of the mouth that speaks
If your body calls for it…
Make room,
and breathe.
Other ways peek out to teach other,
and break bread in chambers of thought.
A road, clear, if you are willing
to gather and prevent the unseen war.