St. Patrick's Day
Widen The Circle
As the serious whiskey that doesn't take itself too seriously, we believe that easy moments of true connection make the world feel like a smaller place. #WidenTheCircle


Widen The Circle
Unspoken bonds or "sparks" (as we like to call them) happen when kindred spirits connect. We want to encourage people to celebrate that spark between them over a glass of Jameson.
So this year, why not widen the circle and bring some new voices to the table? To share their spirit. And our spirit. Making the world feel a smaller place. One sip at a time.
That's right folks, it's the name of the game. Not just something you say, but something you do. As we at Jameson are all about inclusivity, building new bonds and having a laugh along the way.
So, this year, why not widen your circle, and bring some new voices to the table. To share their spirit. And our spirit. Making the world a small place. One sip at a time. As St. Patrick's Day has always been about coming together and celebrating… just for the hell of it!
BUT, big but here, it's also all about connection. And as we connect Fontaines DC to you on March 17th. At our one-off live-stream gig from Dublin. Why don't you connect to someone new? Shaking up your friend's circle, whilst mixing up a few cocktails, and joining in together. As that is the Jameson way. And Fontaines DC too.
JAMESON OPEN HOUSE PARTY
After missing out on a proper St Patrick's Day for the last two year's we've got some catching up to do. So we're throwing open our doors and inviting you to an unforgettable event. BYOB not necessary – we'll have plenty of Jameson cocktails and a few surprises to keep you on your toes. We can't wait to welcome you to our house.
TICKETS £15.00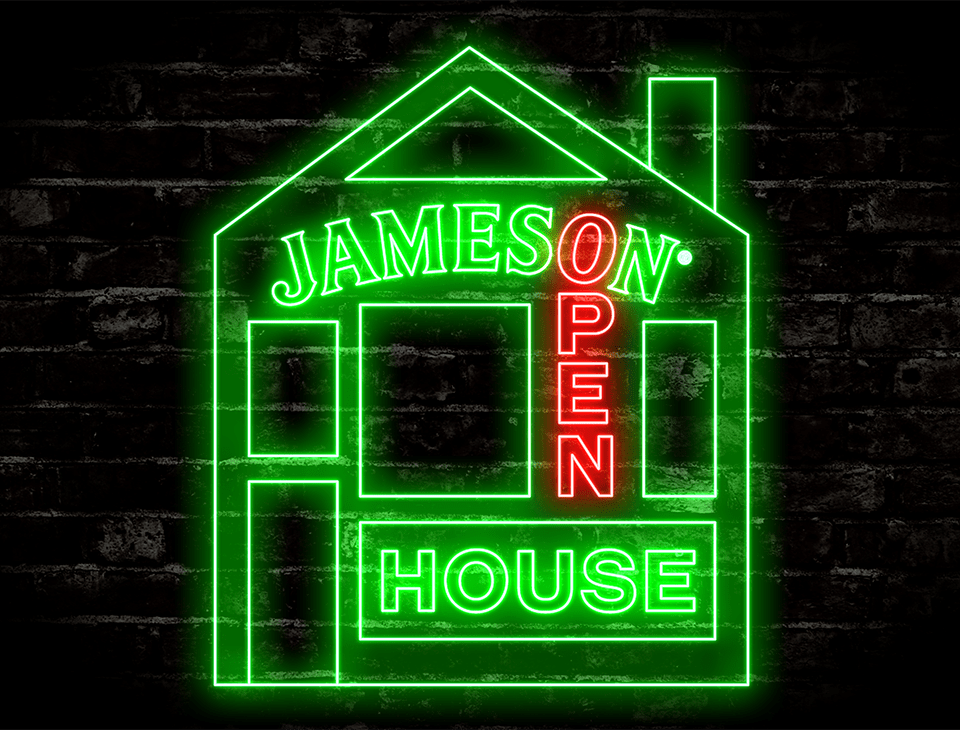 Drinks so good,
St. Patrick gave them his blessing.
We've got recipes for everyone this St. Patrick's Day. From Low & No to our twist on the classics. Ginger & Lime to Whiskey Sours. These concoctions are the perfect way to widen your circle, with friends old and new.
Tell me more
It's time to connect you to the greatest global gig your screen has ever seen. You just need that sweet Irish spirit. And some friends, new and old, too.
It's Jameson Connects x Fontaines DC… what more do you need to know?! We joke.
Here's the nitty, gritty with a small drop of Jameson witty.
When can I join in?
March 17th of course. Or 18th if you're living down under. Or, if it just suits you better!
Will it be the soundtrack to my St. Patrick's Day?
Most definitely
Will it be the greatest hour of my life?
Yes it is 60-minute. And yes, it will be the greatest hour EVER.
Can I invite my friends to join too?
You simply must. This St. Patrick's Day is all about widening the circle.
How do I join in?
Any which way you like. As this livestream is free and open to all.
So, why not sign up below, and we'll ensure you get all the reminders, direct links, and key info you need to join in. Leaving you to focus on raising a glass.
Community & collaboration
at the Cobblestone.
The boys from the betterland are back in Dub-Land. And we've got a big taste of all that's to come. As Jameson Connects you to Fontaines DC.
From a recording of their new music 'Jackie Down the Line', to an essential conversation with Grian, Deego, Tom, Biig Piig and Dan Doherty at the Cobblestone Pub (One of Ireland's most legendary music haunts). We are widening the circle one new seat at a time with some super talented friends.
Celebrating community, collaboration, and that Irish spirit. In a St. Patrick's Day event you won't soon forget.
All in the name of a well-earned celebration together again. Ahead of that sweet-delicious global livestream on March 17th (GMT, EDT, PDT) and March 18th (AEDT).