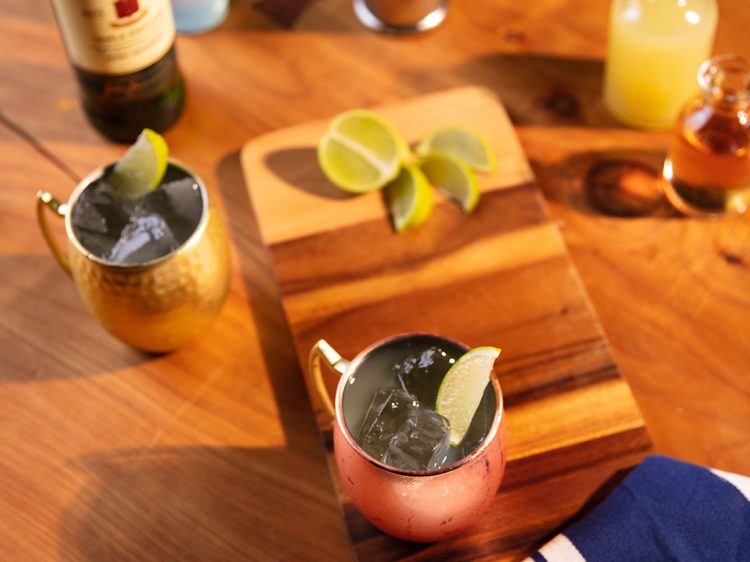 Cocktails
Jameson Irish Mule Recipe
Try an Irish twist on this much-loved, refreshing classic cocktail. Impress your friends with your cocktail-mixing skills by whipping up a perfect Irish Mule. Just follow these simple steps and watch as they marvel at your masterful mixology abilities. Cheers!
Ingredients
10 ml Jameson Original

100 ml Ginger Beer

10 ml Ginger Syrup

Ice Cubes

Wedge Lime

20 ml Lime Juice
⅓ Parts Jameson Original

3⅓ Parts Ginger Beer

⅓ Parts Ginger Syrup

Ice Cubes

Wedge Lime

⅔ Parts Lime Juice
How to make
Make, your ginger syrup: In a medium saucepan over medium heat, stir together 1 part sugar, with 2 parts fresh ginger and 2 parts water until the sugar dissolves. Increase heat slightly, then simmer for 5 minutes, stirring occasionally. Strain the liquid to remove the ginger pieces and pour into an empty bottle. Refrigerate syrup until cold, about 2 hours.

Make your Mule: Fill a shaker with Jameson Triple Distilled, your ginger syrup, lime juice and ice. Shake gently to combine the ingredients.

Strain the ingredients into your copper mule mug filled with ice. Fill up with some ginger beer.

Finish with a flourish of green with a fresh lime wedge as a garnish.
About this Cocktail
A refreshing twist on the classic Mule. The ever-growing love story between Irish Whiskey and ginger works fantastically together once again to create this whiskey cocktail. Actually created in Manhattan, these simple whiskey ginger cocktails are almost as famous for the copper mug they come in, as they are for their incredible taste.