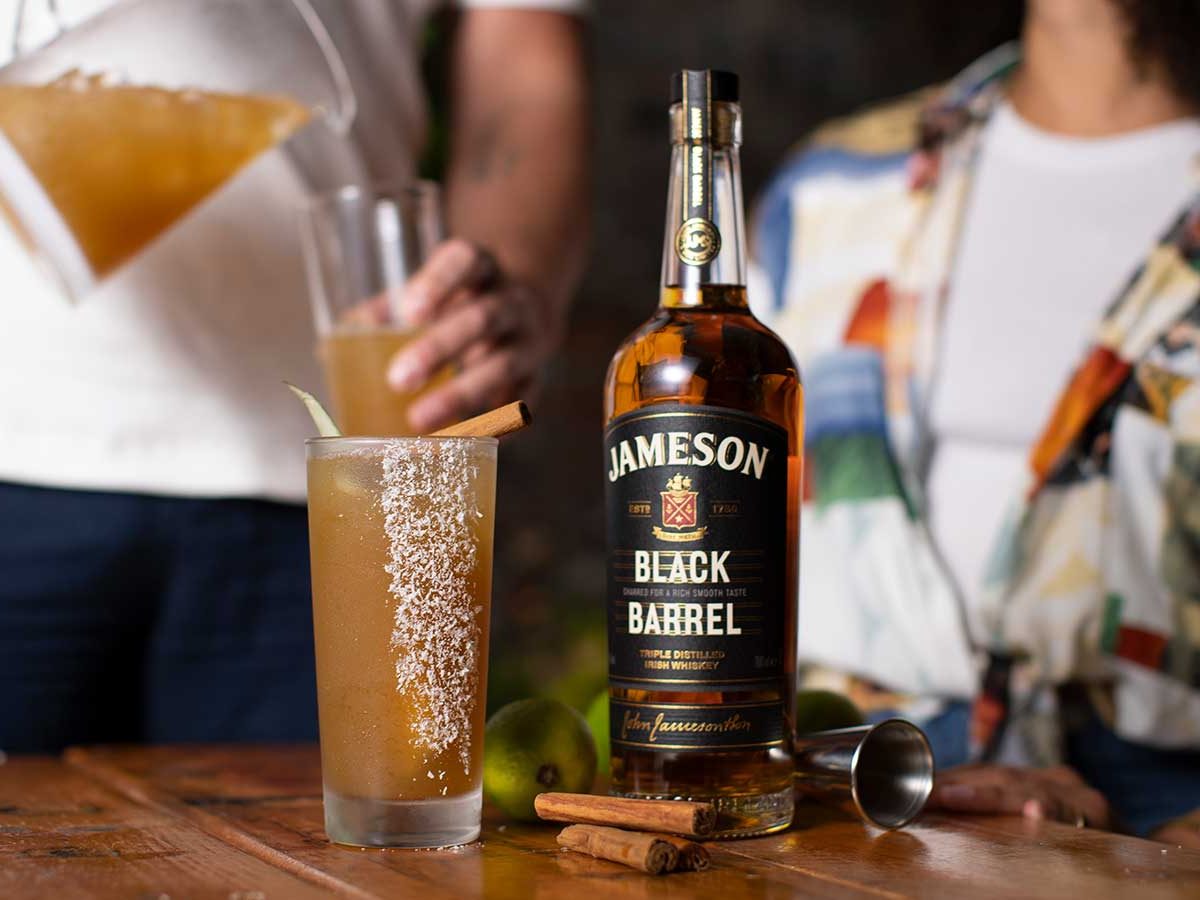 Cocktails
Cinn City
Forgive me father for I have cinn'd. Weekend visions include: pals, sunshine & shareable cocktails.
Ingredients
1 Stick Cinnamon

15 ml Cinnamon Syrup

45 ml Coconut water

Ice Cubes

50 ml Jameson Black Barrel

25 ml Lime Juice

30 ml Pineapple Juice
1 Stick Cinnamon

½ Parts Cinnamon Syrup

1½ Parts Coconut water

Ice Cubes

1⅔ Parts Jameson Black Barrel

⅚ Parts Lime Juice

1 Part Pineapple Juice
How to make
To Make Cinnamon Syrup, you will need 500ml water, 350g demerara sugar, 4 cinnamon sticks; Add all ingredients to a saucepan and bring to a boil. Reduce heat and allow to simmer for 10 minutes on a low heat; Remove from the heat, allow to cool and remove the cinnamon sticks. Bottle and refrigerate.

Add all ingredients to a cocktail shaker and shake with ice. If you have a blender at home try blending the ingredients with ice instead of shaking to get a different consistency.

Strain into a highball glass filled with ice.

Garnish with a lime wedge/ toasted cinnamon stick/ grated cinnamon/ pineapple wedge/ pineapple leaf/ mint sprig/ coconut flakes – whatever you have at hand. It's a tiki drink, so the more over the top the better!

This drink can easily be batch-made and kept in the fridge to share with friends – just increase the quantities!
About this Cocktail
This OTT concoction is meant to be pushed. So, throw the kitchen sink at it. We've gone for coconut, pineapple's and mint, giving off some Jamaican cooking vibes. But it's the cinnamon syrup that does the heavy lifting, bringing everything together as one.