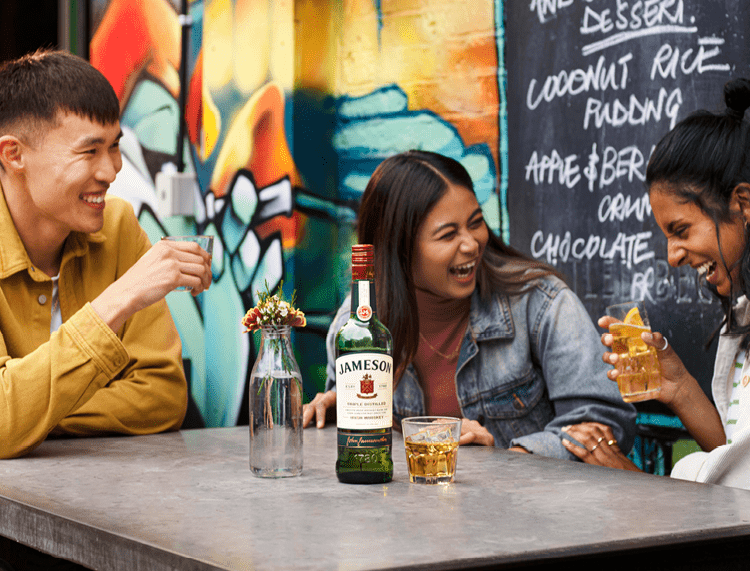 Our Whiskey
Jameson Irish Whiskey
Jameson Irish Whiskey is a blended Irish Whiskey.
What's that we hear you say? Well first we take the best of pot still and fine grain whiskeys. Then we triple distill them- not because we have to because we want to as it gives it its signature smoothness. Finally we age them in oak casks for a minimum of 4 years. It's where we recommend starting your whiskey journey. How to drink it? Any way you like. Just add mates and widen the circle. Triple distilled, twice as smooth, one of a kind.​
A light floral fragrance, peppered with spicy wood and sweet notes.
The perfect balance of spicy, nutty and vanilla notes with hints of sweet sherry and exceptional smoothness.
Get To Know Jameson Original
Is Jameson A Scotch or bourbon?

No. Jameson is an Irish whiskey produced, distilled and matured in Ireland. However some of our whiskeys use Bourbon barrels, such as Jameson Black Barrel.
Why is Jameson triple distilled?

We triple distill our product in copper stills to give our whiskey its signature smoothness. Our Jameson Triple Triple is not only triple distilled but triple cask matured to amplify its flavours further.
Is triple distilled whiskey better?

Each time Jameson whiskey is distilled it becomes stronger in character, adding more sweet, fruity flavours and a smoother taste than other types of whiskey.
Is Jameson a sipping whiskey?

Yes! Jameson is a great whiskey for sipping. We've created the perfect balance of smoothness and flavour for you to drink it neat, on the rocks, or with a splash of water.
How do you drink Jameson triple distilled Irish whiskey?

Jameson Triple Distilled goes perfectly with classic whiskey mixers like ginger ale or cola. Or it can be used as a base for your classic cocktails like a Whiskey Sour or an Old Fashioned. Check out our collection of whiskey cocktail recipes and find your favourite flavour!
How much is a bottle of Jameson Original?
Jameson around
the world