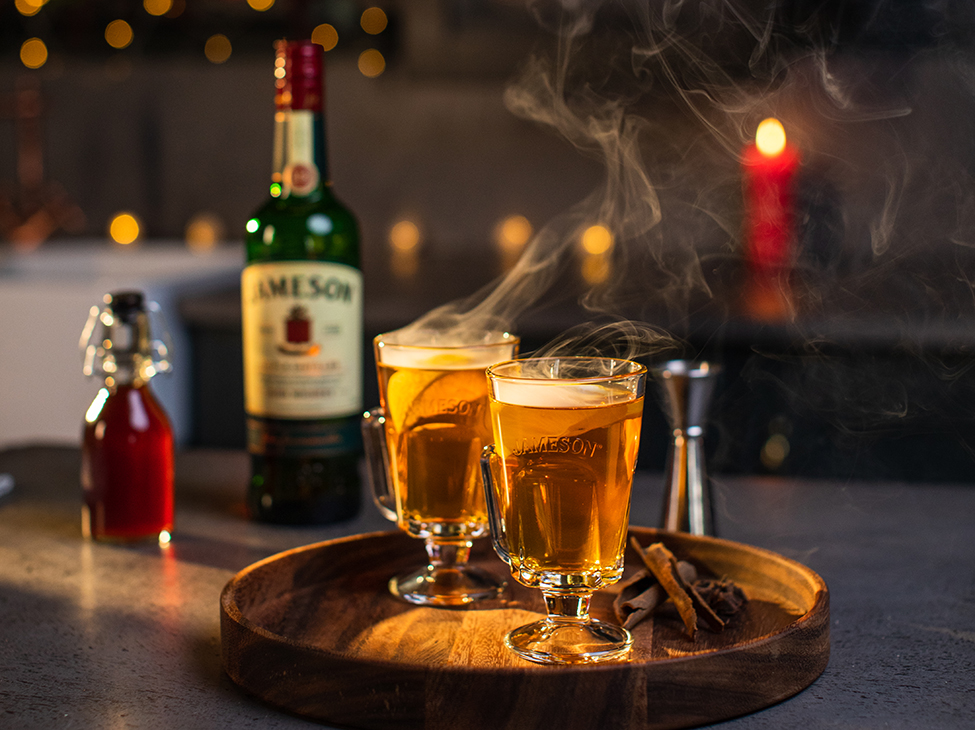 Hot Toddy
This hot toddy recipe is the perfect winter drink. Our mix of spiced tea syrup, hot water, lemon, and Jameson Irish Whiskey is a great way to stay warm when the temperature drops. A little bit of sweetness, a hint of sour, some spice, and, of course, a punch of whiskey. It's comfort in a glass, perfect for a night in front of the fire.
Ingredients
50 ml Jameson Original

20 ml Spiced Tea Syrup

80 ml Boiling Water

1 Wedge Lemon
1⅔ Parts Jameson Original

⅔ Parts Spiced Tea Syrup

2⅔ Parts Boiling Water

1 Wedge Lemon
How to make
Make the spiced tea syrup: Wrap cloves, cinnamon sticks, star anise, nutmeg, and allspice in cheesecloth or a coffee filter. This is your spice pouch.

Add sugar, water, Irish tea bags, and spice pouch to a saucepan over medium heat. Stir until the sugar dissolves and simmer for at least 20 minutes.

Leave the contents to sit covered overnight to allow the spices and tea to steep. Strain through a mesh strainer. The spice pouch can be dried out and reused to make another two batches of syrup. Store any extra syrup in an airtight container and refrigerate. Syrup will keep for about two weeks.

Make the hot toddy: Add Jameson Original, spiced tea syrup, and boiling water to a heated glass or mug.

Squeeze a wedge of lemon into the drink. Drop the lemon wedge into the glass and serve.
Making a Killer Hot Toddy
Why we love this: Our homemade spiced tea syrup made with Irish tea gives this classic cocktail an edge. The syrup will be enough for quite a few hot toddies, so you can enjoy with a friend or the whole family. For a different flavor profile, try honey or even maple syrup. You can also sub the lemon with another citrus fruit, like lime or orange. Adjust syrup and lemon levels to suit your tastes.
Serve your hot toddy in a warm glass or mug for maximum coziness. Just heat the mug by pouring in boiling water and let it sit for a minute or so. Then, pour the water out and make your drink.