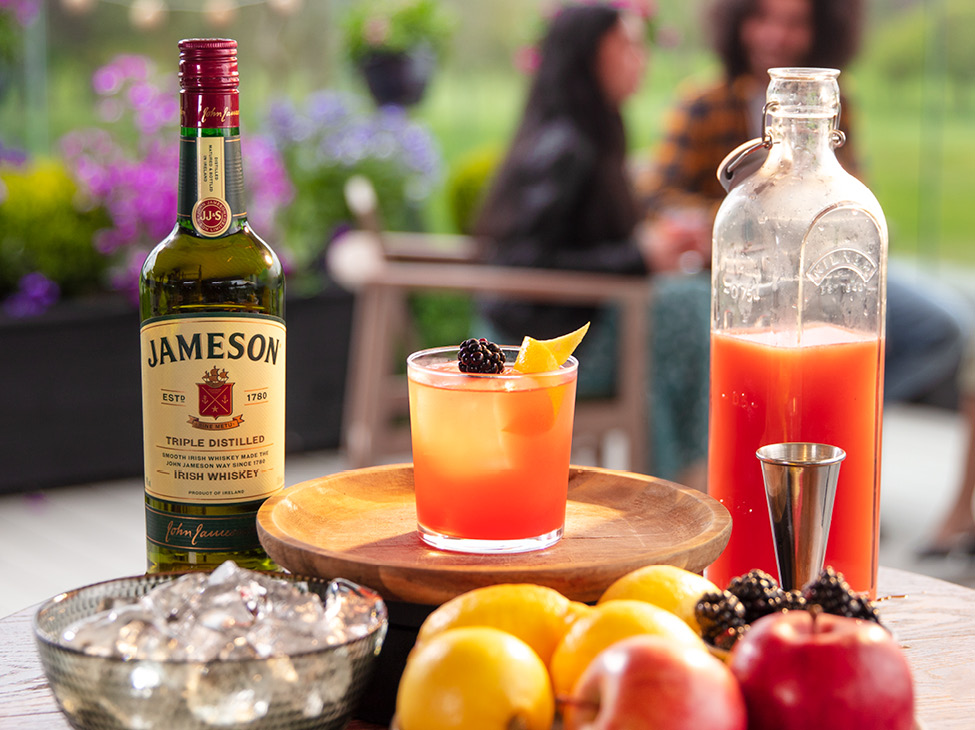 Cocktails
Black Apple
Blackberries and Apples, a match made in heaven. The apple notes of the dry sherry and the blackberry-based creme de mure help elevate the flavours further. Blackberry syrup is a simple syrup to create so will be accessible for the majority of home enthusiasts and bars should they wish to recreate these drinks. Apple is a key flavour combination that works with Jameson Original.
Bland cocktail consumers, have at thee! A Black Apple is for fruity flavour lovers. Apple and blackberry mixed with Jameson's sweet sherry and vanilla notes. We're not gamblers, but if we were, we'd put it all on black!
Ingredients
35 ml Jameson Original​

100 ml Black Apple Batch​

Making the Black Apple Batch:

100 ml Dry Sherry​

125 ml Crème De Mure​

150 ml Blackberry Syrup​

200 ml Lemon Juice​

425 ml Cloudy Apple Juice​
1⅙ Parts Jameson Original​

3⅓ Parts Black Apple Batch​

Making the Black Apple Batch:

3⅓ Parts Dry Sherry​

4⅙ Parts Crème De Mure​

5 Parts Blackberry Syrup​

6⅔ Parts Lemon Juice​

14⅙ Parts Cloudy Apple Juice​
How to make
Just add Jameson. Shake Batch Mix. And pour.

Shake batch bottle vigorously.​

Fill tumbler with ice.​

Add ingredients.​

Express lemon peel, and insert in drink with blackberry.​

1LTR = 10 DRINKS​
About this Cocktail
There's much to love about this pre-made cocktail. Blackberry simple syrup, blackberry cream de mure, (whatever the apple ingredient is) and Jameson Original. Pre-pare to run out quick!