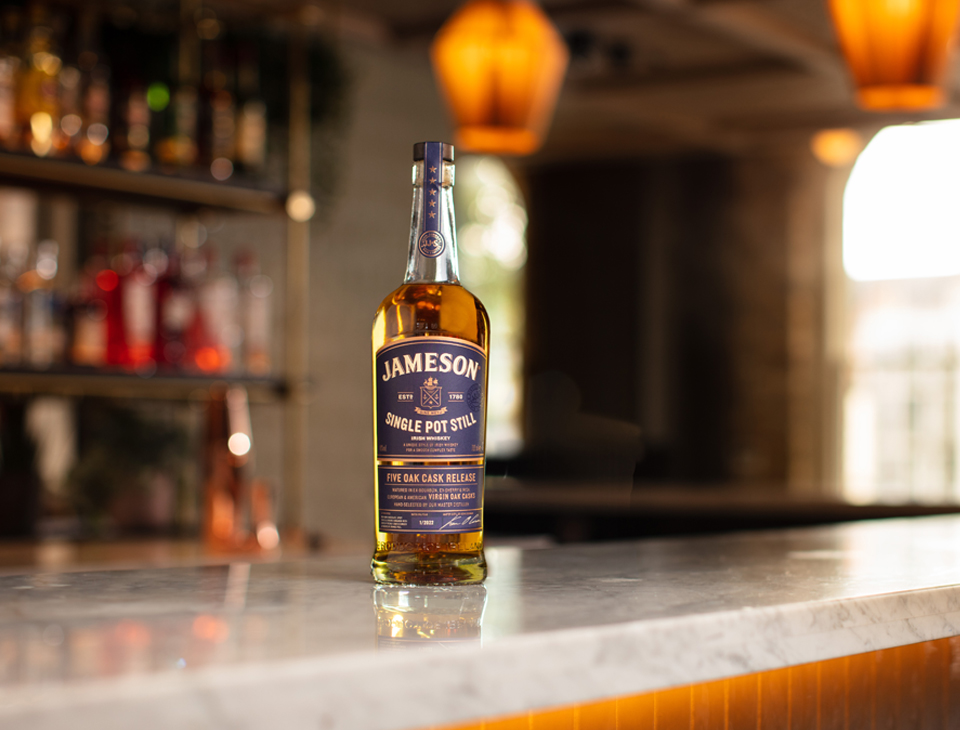 Five Oak Cask Release
Jameson Single Pot Still
Jameson Single Pot Still embodies the traditional Irish Whiskey making style after which it is named.
Malted and unmalted barley is triple distilled for a rich, unmistakable silkiness with distinctive pot still spiciness. This Five Oak Cask Release is matured  in a combination of  three different types of virgin oak (Irish, European and American), in addition to ex-bourbon and ex-sherry casks.  The finished result is a whiskey that is equal parts complex and smooth.
Opens with wood-driven spices of cinnamon and nutmeg intertwined with rich toasted oak, sweet honeycomb and salted caramel. Zesty fruit notes linger in the background along with dairy fudge, butterscotch and vanilla while the pot still spices continue to build over time complementing the earthy woodland notes and ripe fruits.
Rich dark chocolate, spicy toffee and ground cinnamon with hints of freshly grated ginger and touches of orange peel. The combination of fresh and seasoned oak adds intricate and layered sweet and smoked-wood tones with delicate tannins, working in balance with the pot still's silky texture.
The delicate fruits slowly fade leaving the spices and oak to linger until the very end.
Jameson Single Pot Still
Drinks Recipes