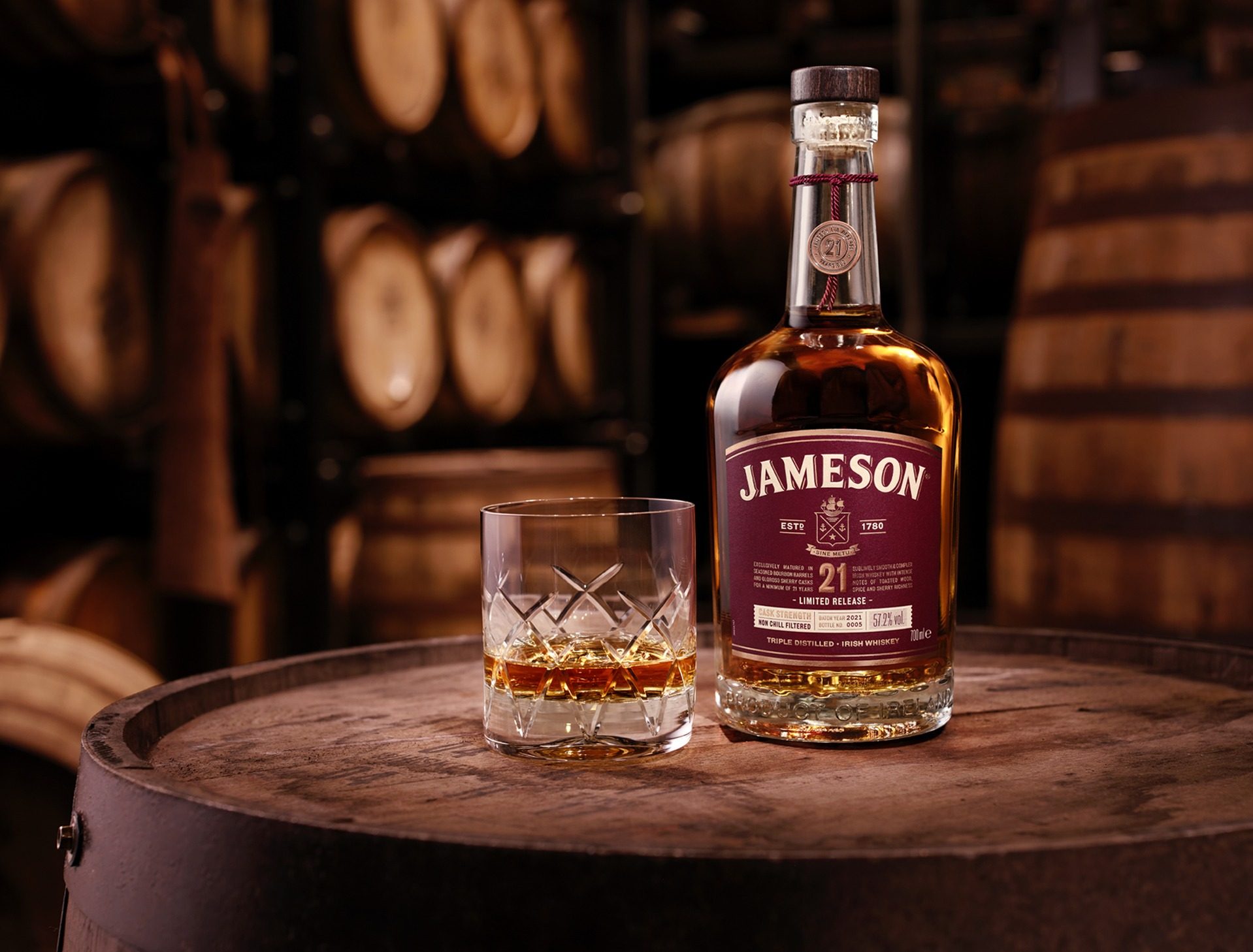 Our Whiskey
Jameson 21 Years
Jameson is signing off 2021 in style with the introduction of an exceptional limited-edition release to the world's favourite Irish whiskey range. 2,301 bottles of Jameson 21 Years will be available for whiskey fans to purchase via an online ballot to mark the end of the year.
Taking its place at the head of the family, Jameson 21 Years is a blend of rare pot still and single grain Irish whiskeys that were initially matured in a range of ex-bourbon and oloroso sherry seasoned casks at the Midleton Distillery for 18 years. Following on from that initial period of maturation, these whiskeys were then blended and re-casked into freshly emptied ex-bourbon barrels for an additional three years.
After a long and complex maturation journey, these casks were then finally married with additional pot still whiskeys that had fully matured for over 21 years in first fill oloroso sherry seasoned wine casks. The final inclusion of these sherry casks add balance to the American oak contribution of toffee and dairy fudge, by delivering a heightened dried fruit intensity and extra layer of pot still spices. Bottled at cask strength 57.2% ABV, the result is a spicy and full-bodied whiskey with a rich sherry contribution that brings dried fruit notes and character to the fore, whilst retaining a clear reference to Jameson's unmistakably smooth DNA.
Rich in wood spices with sweet notes of toffee and dairy fudge, while the dried fruits add extra layers of flavour with hints of dates and fig, all wonderfully in balance with the intensity of the pot still spices and floral grain notes.
Robust and complex with cinnamon and nutmeg spice to the fore accompanied by the oak's soft tannins and silky nature of the pot still spirit. Dark berry fruits work in tandem with sweet vanilla and chocolate creating a medley of flavours intertwined with a sherry nuttiness and gentle touches of leather.
Lingering finish with the fruits slowly fading into the background, leaving the oak and spices have the final say.