Jameson, Homecoming & Patta
Welcome to ALL CONNECTS.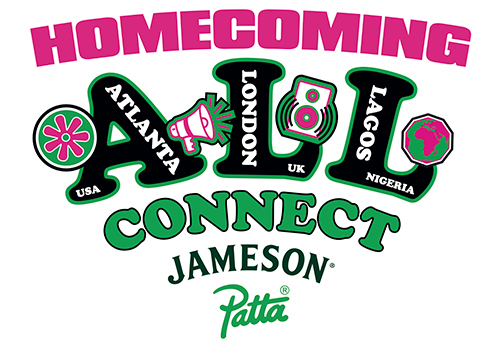 A multi-city tour across three continents, hosted by Jameson, Homecoming & Patta. Three friends, who's central goal of widening the circle and connecting creative communities is taking them to Atlanta, London and Lagos. Bringing like minded artists together. Whilst amplifing African talent, culture and creative. Bringing new voices to the table the only way we know how. In style.
From pop up shops to top secret 'Patta' merch drops. Crazy line ups and performances to conversations and discussions. We're celebrating ALL things Africa. A uniquely special, trailblazing international community. Who's global dominance is only beginning.
Oh the places they will go. And have gone alredy.
So, join our close friends Teezee, Tiffany Calver and the Love Renaissance collective as they host three super special gatherings in three super important cites. And stay tuned to our channels for exclusive content, merch drops, tickets, artist announcements and an epic post tour documentary too.
All crafted for your taste.