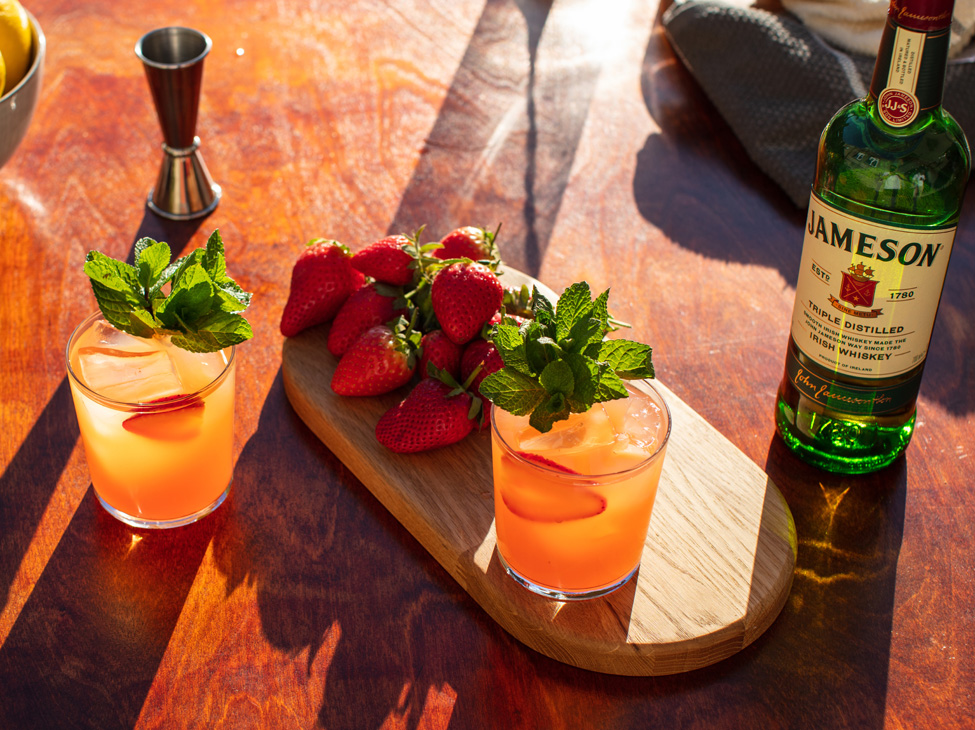 COCKTAIL RECIPES
Strawberry Fields
Life is all about less stress, more success with this prebatched Summer serve. As this baby is all about speed. Saving you time. Meaning more time for creating newfound connections with those that matter.
Ingredients
50 ml Jameson Original

100 ml Strawberry Fields Batch

100 ml Dry Vermouth

100 ml Italian Bitter

150 ml Strawberry cordial

150 ml Lemon Juice

500 ml Cloudy Apple Juice

1 Mint sprig
1⅔ Parts Jameson Original

3⅓ Parts Strawberry Fields Batch

3⅓ Parts Dry Vermouth

3⅓ Parts Italian Bitter

5 Parts Strawberry cordial

5 Parts Lemon Juice

16⅔ Parts Cloudy Apple Juice

1 Mint sprig
How to make
Shake batch bottle vigorously. 

Fill tumbler with ice. 

Add ingredients. 

Hand clap mint sprig, insert with slice of strawberry and enjoy.
About this Cocktail
Sharing the taste of the Irish summer. No not rain. STRAWBERRIES! With apple as an award winning supporting role. Just give the bottle a little shake before serving. making it look as fresh as it tastes. It's just that easy.