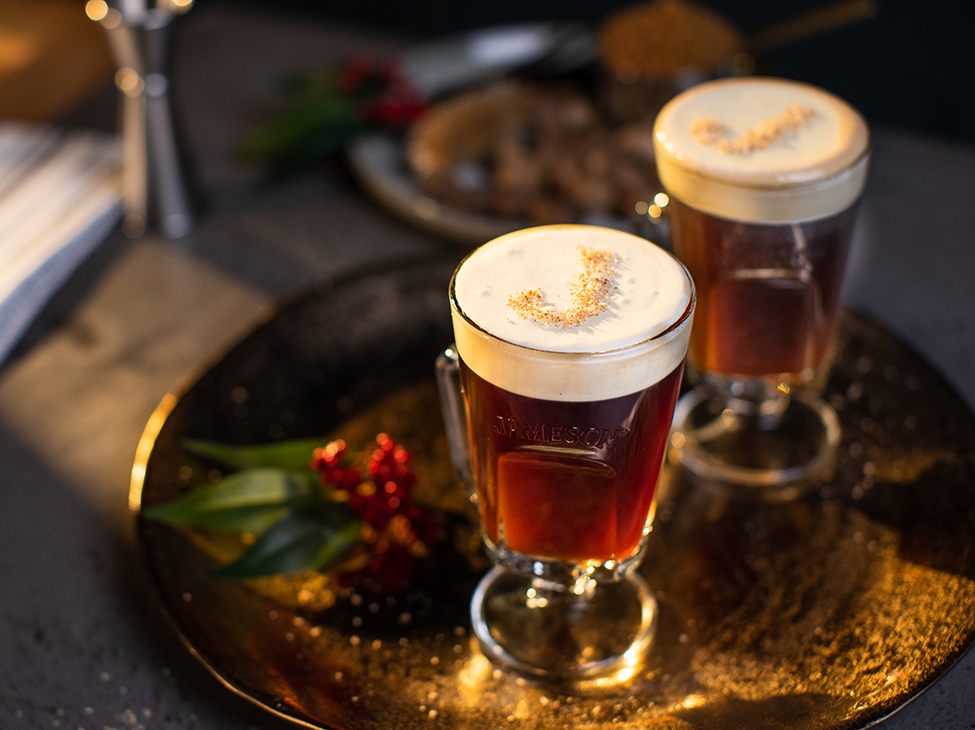 Cocktail
Jameson Irish Coffee Recipe
When it comes to coffee drinks, there's nothing more quintessentially Irish than adding a little drop of Jameson Irish Whiskey to add some warmth and make a cold winter's evening more enjoyable.
So, go ahead and indulge in the magic of this Irish whiskey cocktail, and let your taste buds dance with joy as they experience the mischievous twist of a cosy winter evening.
How to make
Dissolve 2 parts Demerara sugar in 3 parts of boiling water for the syrup.
Stir sugar syrup into 35ml Jameson in a warmed glass.
Whip 30ml chilled double cream lightly until it starts to stiffen.
Brew a 45ml shot of coffee into the glass from your espresso machine.
Pour the whipped cream into the coffee over the back of a spoon so it floats on top.
Garnish with a trimmed vanilla pod or a stick of cinnamon and dust with a grating of fresh nutmeg.
About this Cocktail
Wondering how to make the perfect Irish coffee? You've come to the right place. This is the one and only Irish coffee recipe you need for any occasion. Whether you're looking for something tasty on a cold winter's evening or a special St. Patrick's Day cocktail to celebrate our national day, an Irish coffee is just the brew for you.
Irish Coffee FAQs
What is special about an Irish Coffee?

Irish Coffee is a beloved elixir for aficionados of both coffee and whiskey. It's where steaming coffee and Irish whiskey engage in a delightful dance, topped with a creamy crown fit for royalty. Served in an Irish Coffee glass, it warms the soul and pleases the senses, making it a cherished beverage. 
What alcohol is in an Irish coffee?

When it comes to Irish coffee, there's no fooling around—only the finest Irish whiskey gets the starring role. 
What is the difference between a Baileys coffee and an Irish coffee?

An Irish coffee packs a punch with coffee, whiskey, and whipped cream, while a Baileys coffee charms with creamy Baileys Irish Cream. Irish coffee is robust, sweetened warm beverage that can be enjoyed whenever and whatever the occasion. A Baileys coffee is more velvety and mainly used as a dessert companion. 
When should you drink an Irish coffee?

Irish coffee knows no bounds when it comes to timing. Whether you're cosying up during a cold evening, indulging in a dessert affair, or bonding over laughter with friends, Irish coffee is the charismatic companion that elevates any moment with its warm embrace and spirited charm. 

So, seize the opportunity, raise your cup, and let this delightful concoction work its magic whenever the occasion calls for a wink and a sip.