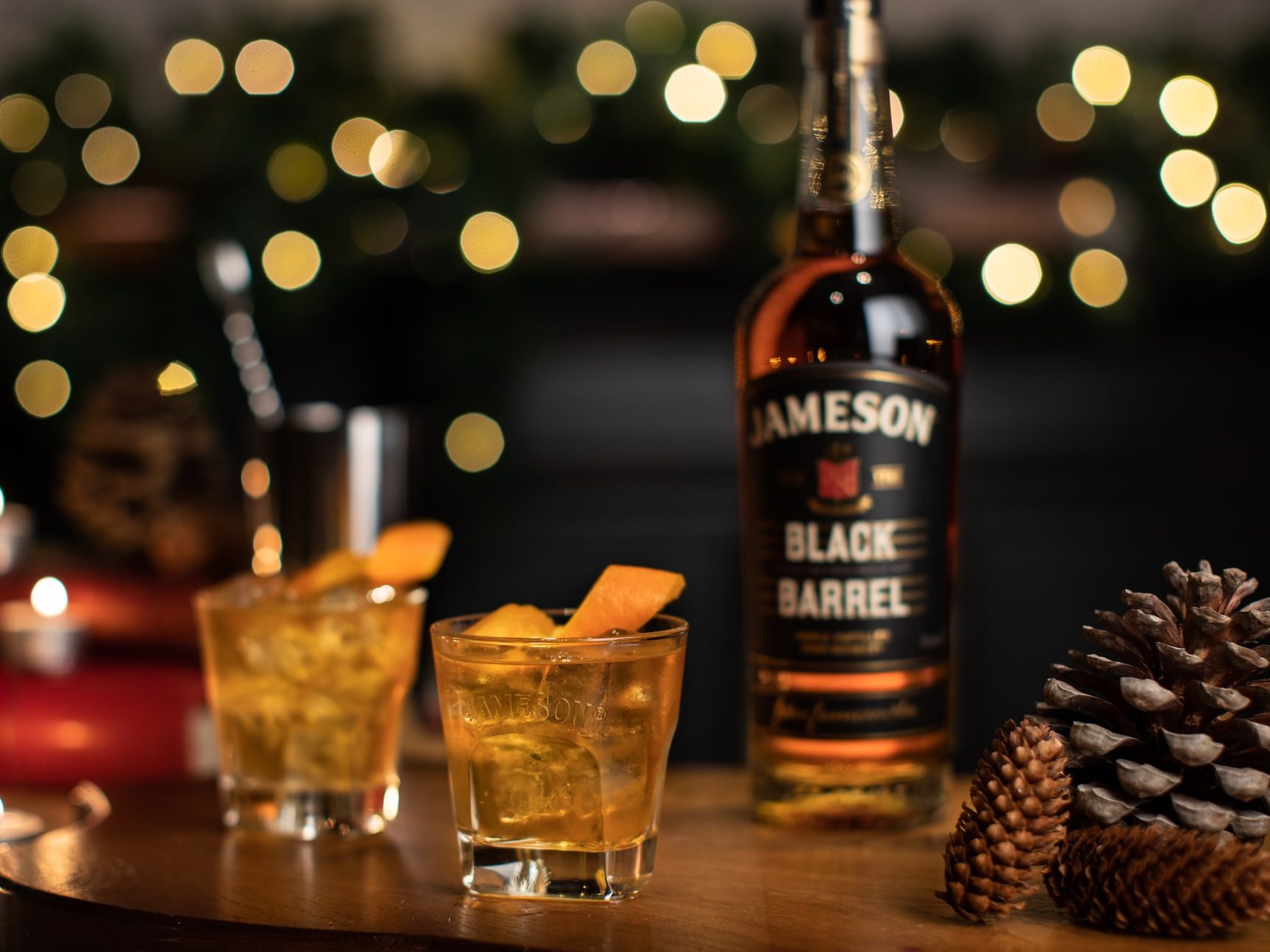 Cocktails
Old Fashioned
As you can guess by its name, the old fashioned was one of the first whiskey cocktails. The old fashioned is thought to have been invented in 1884 by bartender Martin Cuneo at The Pendennis Club in Louisville, Kentucky. Almost 150 years later, it's still one of the most popular cocktails and a perfect way to enjoy your Jameson Black Barrel. 
How to make
Fill a glass or cocktail shaker with ice.
Add Jameson Black Barrel, Angostura bitters, orange bitters, and simple syrup.
Stir until ice cold and strain into an ice-filled rocks glass.
Twist an orange peel over the glass to express some of the oil, then drop it into the glass.
About this Cocktail
This old fashioned never goes out of style. What's the key? Simple syrup adds a little bit of sweetness and the bitters create depth. We recommend stirring your old fashioned with ice rather than shaking it – shaking adds air and water that can dilute the cocktail's flavor.
Pour your cocktail into a rocks glass. Use your
whiskey stones
or drop in a large ice cube to keep it cool as you sip and savor. The orange garnish enhances the flavor and aroma, and gives the old fashioned its signature look – twist it over the top of the drink to infuse some of the oils, then drop it right in the glass.
Old Fashioned FAQs
WHY IS THIS COCKTAIL CALLED AN OLD FASHIONED?

"Old fashioned" is short for "old fashioned style whiskey cocktail." In the 1800s, this meant any mix of whiskey, sweeteners, and bitters. 
WHAT IS THE BEST WHISKEY FOR AN OLD FASHIONED?

A smooth Irish whiskey like Jameson Black Barrel is the perfect base for an Irish old fashioned. 
WHAT ARE THE BEST BITTERS FOR AN OLD FASHIONED?

A few dashes of Angostura bitters and orange bitters are the best choice for an old fashioned.  
WHAT DOES THE ORANGE PEEL ADD TO AN OLD FASHIONED?

Garnishing an old fashioned with an orange peel or twist allows the oils from the peel to release into the drink and elevate the cocktail's flavors. 
DO YOU SHAKE OR STIR AN OLD FASHIONED?

We recommend stirring an old fashioned in a glass or pitcher of ice. Shaking an old fashioned with ice cubes will mix in air and water and can dilute the cocktail too quickly.