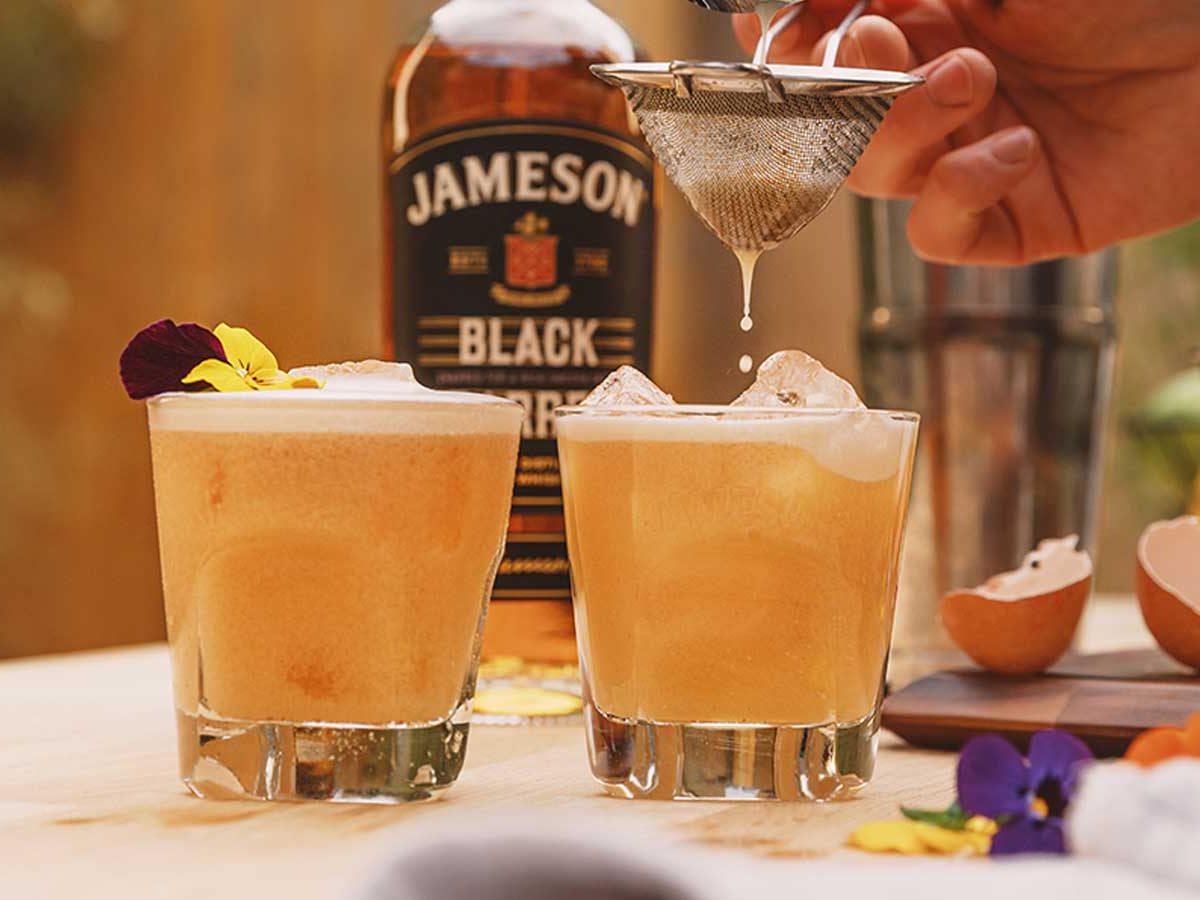 Cocktails
Summer Sour
If you tell me summer… I answer you Summer Sour! Try out a new take on a Whiskey Sour with this Black Barrel and fresh strawberry delight.
Ingredients
1 Piece Edible Flower

15 ml Egg White

Ice Cubes

50 ml Jameson Black Barrel

20 ml Lemon (Fresh)

15 ml Strawberry Syrup
1 Piece Edible Flower

½ Parts Egg White

Ice Cubes

1⅔ Parts Jameson Black Barrel

⅔ Parts Lemon (Fresh)

½ Parts Strawberry Syrup
How to make
Prepare the Fresh Strawberry Syrup: Rinse the berries clean, pull out the stems and slice the strawberries into smaller pieces. Place the strawberries in a medium saucepan. Cover with water and bring to a boil. Reduce to a medium simmer and let the strawberries cook for about 20 minutes. Skim any foam that rises to the top. Strain the strawberry liquid through a strainer into another clean pot separating the solid berries from the liquid. Add 2 cups of sugar to the strawberry liquid. Bring back to a boil, stirring frequently to dissolve the sugar into the syrup. Let the syrup simmer for 5 minutes till the sugar is completely dissolved, skimming any additional foam that rises to the top. Remove from heat and allow to cool completely. Pour into a glass container, seal, and refrigerate. The syrup should last for several weeks.

In a shaker, combine the Jameson Black Barrel, fresh lemon juice and the Strawberries Syrup. Dry Shake for 30 seconds.

Add ice cubes into the shaker and the egg white. Shake again for 30 seconds.

Pour into a chilled glass.

Add fresh edible flowers as a beautiful, summer garnish.
About this Cocktail
Learn how to create your own delicious fresh strawberry syrup and see how it balances perfectly with the fresh lime and the smooth notes of the Jameson Black Barrel. Add in some edible flowers and you have the best cocktail for a perfect summer aperitif. Try this twist on a classic whiskey sour recipe. A perfect summer drink, with homemade strawberry syrup and Jameson Black Barrel.