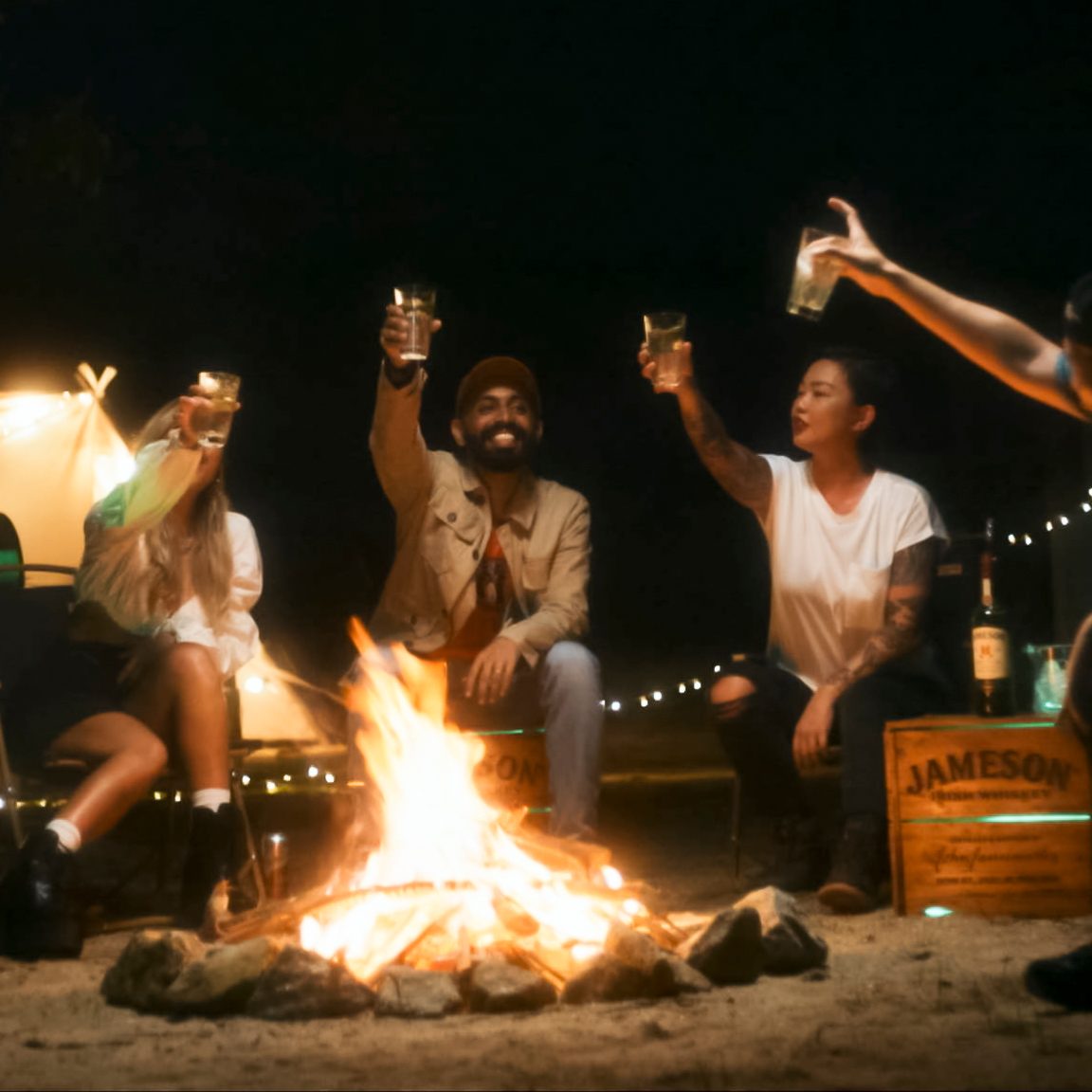 Say 'Yes' to summer
Jameson's Guide To Creating An Unforgettable Camping Experience with Friends
After those dastardly dark and colder months, it's time to start saying "Yes" to near on everything. And lucky for you; Jameson is here to help you widen your circle and make instant mega memories with a few summer suggestions. As with the change in seasons comes…
Camping. The perfect opportunity to get outside and experience the simple life with your nearest and dearest. So, below, we have some outdoorsy inspiration. From dishing out mouthwatering meal ideas to a to do list of activities, top tips to find the perfect camping spot to all the essential gear you'll need to make your summer camping escapades unforgettable.
Choosing the Right Camping Destination
First things first, when planning your camping trip, determining your destination is key. So, if you're wondering where to go, don't fret. Simply choose between a regular campground or the wilderness. And once that's decided, use our top tier camping tips to further set your pals up for the ultimate time together:
Set up your tent and equipment on higher ground in case of raining and flooding.
Make sure the area is flat and smooth to ensure you get a good night's rest

Plan ahead. Make packing lists and don't forget to check the weather conditions.

Check for sun and shade when setting up. Will you be met with morning sun that heats up the tent or car? If so, a different spot may be best.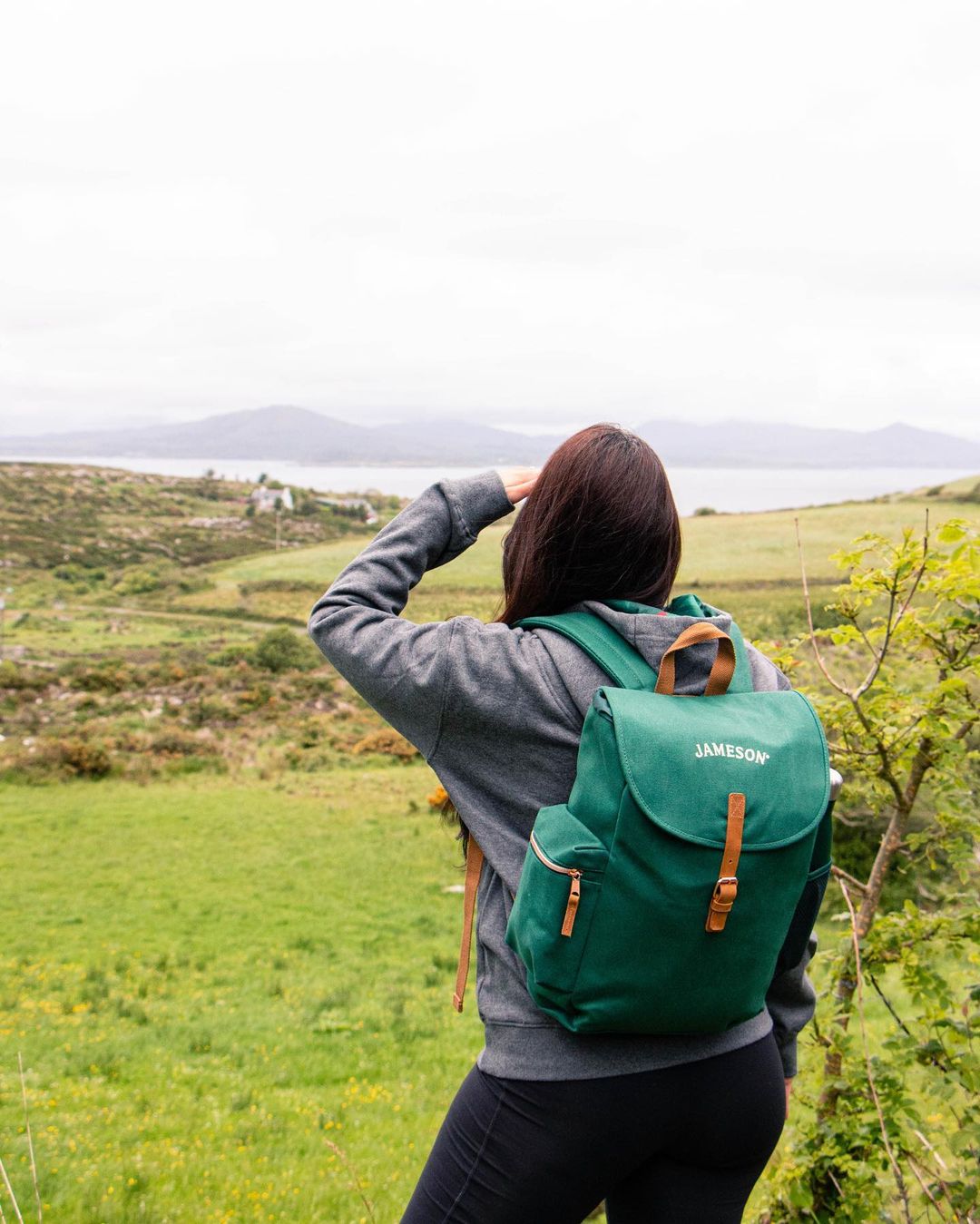 Choosing the Right Camping Destination
First time camping? No problem. Here is our easy go-to list of the top camping essentials:
A tent big enough for everyone.
+ maybe a little extra space for bags and bits too.
An air mattress or sleeping pad
A sleeping bag
Pillows
Toilet paper
Water bottle
A first-aid kit
Flashlights (and batteries)
Camp chairs
Bin bags (Pack in and pack out)
Hand sanitiser
A camping table
Setting Up Camp, How To Pitch a Tent
Finding high ground for your camping site is the secret ingredient to a good nights rest. Saving you and your tent from waking up in a puddle. But when it comes to pitching your tent, get everyone to pitch in. It'll help build bonds that are later celebrated with a sip.
Bringing you and your friendship circle closer together. So, what's the best way to pitch a tent you ask?
1. Find a good, flat, and high-ground spot for your tent. Make sure to consider the size of the tent when scouting out a good area.
2. Place the tent's footprint down; This gives the outline of the tent and protects the bottom of the tent from water and dampness.
3. Lay the body of the tent over top of the footprint.
4. Assemble the poles and run them through the correct grommets on the tent body and footprint.
5. Attach the tend body and footrint to the poles.
6. Add the rainfly on top, securing it properly.
7. Stake the corners of the tent into the ground.
8. Make your way around the tent and tighten up the rainfly so a limited amount of water can make its way inside.
Explore The Local Area With A Hike
Campgrounds are surrounded by lucious trails to discover the local area, providing ample amounts of adventure for you and your friends. If there is a viewpoint, take this as an opportunity to catch up with your best pals and get active, all in one. And ensure to bring a proper GPS and map with you for safety, especially if the trail isn't clearly marked.
Wow Your Pals With a Meal for Camping Kings and Queens
Prepping food in advance is a sure fire way to impress the crew. That way, you can be more in the moment, crafting some top class memories. Our personal favourite, is prepping some grilled cheese sandwiches, minus the grilling. Meaning you can serve them warm on the day with that first JGL post tent pitch.
But it's important to keep things simple. And the list below does just that:
Campfire nachos
Sausage breakfast sandwiches
Hotdogs or sausages
Beef or chicken and veggie kebabs
Campfire s'mores
Games to Unwind
The wilderness isn't all fun and games. But sometimes it is. Games like capture the flag, scavenger hunts, and campfire charades all go down a treat.
You could also try your hand at fishing, paddleboarding, swimming, or, as previously mentioned, head out on that scenic hike.
But remember, the right outfit can make all the difference. If you plan on sharing some spooky campfire tales, don't forget to pack that trusty flashlight – after all, a good scare deserves good lighting. And if hiking is on the agenda, make sure to bring sturdy boots.
Camping Cocktails To Widen Your Circle
The best way to widen your circle is with a few simple and easy cocktails. Sharing stories over a good drink, such as:
Choose cocktails that require similar ingredients to lighten your load when packing. And don't forget to bring a cocktail mixer to make the perfect drink to share with friends. While you're at it, you might just want to bring hip flasks or barware to make this camping experience one-of-a-kind with Jameson Irish Whiskey.

Now, if camping hasn't quenched your thirst for summer fun, check out our Jameson Guide to Summer Spontaneity.