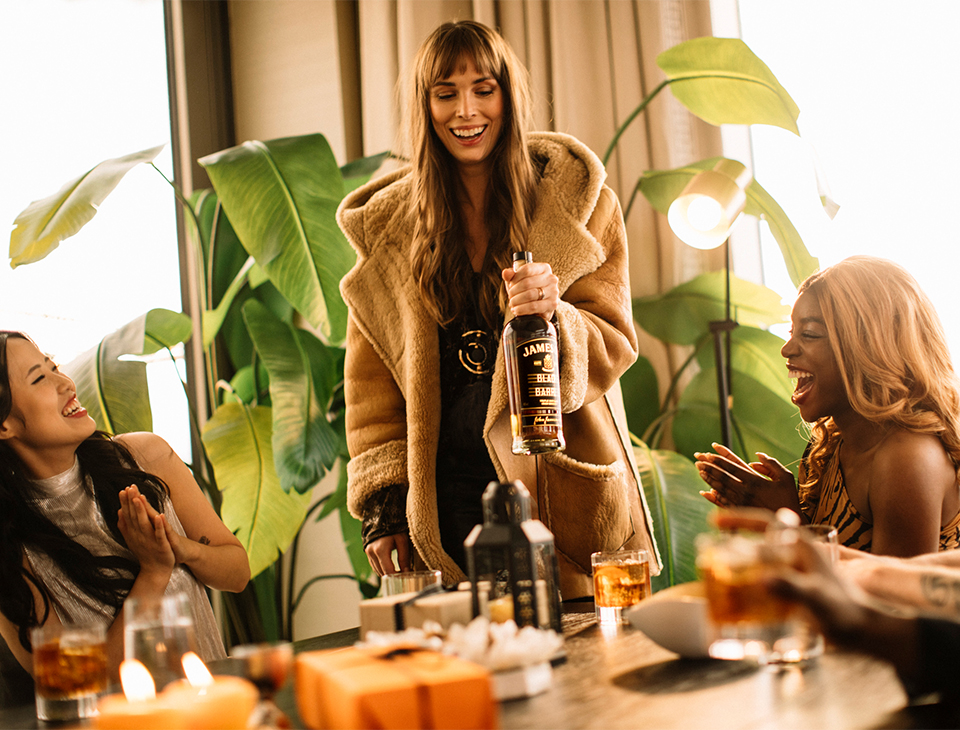 From Your Irish Whiskey Gift Guru
Irish Whiskey Gift Guide: The 8 Best Jameson Gifts
You love whiskey, or at the very least, you have someone in your life who does. And in truth, it's a blessing; you know what they like! You buy them a bottle of Jameson Irish Whiskey, and Bob's your uncle, job done, right? Wrong! Why stop there? There are so many other gifts for whiskey lovers, from a gift set of rocks glasses to more unusual whiskey gifts, that whiskey accessories should be just as present when thinking of your next present.
Thankfully, Jameson has provided the perfect guide to help you buy a gift for someone who likes whiskey. So, let's break down the options of what to put with whiskey as a gift for a whiskey lover in your life.
Is Whiskey A Good Gift?
Yes.
Oh, we have to expand on this? Alright. Of course, we are extremely biased in this regard but, whiskey is a wonderful present, especially to gift a whiskey lover. A bottle of whiskey tends to last considerably longer than a bottle of wine, and so a gift of whiskey often says a lot about the relationship. For example, whiskey is often considered a great "Dad gift", a perfect representation of a relationship between a father, son, son-in-law, etc.
Questions remain, 'How to gift whiskey' and 'What is a good whiskey to gift?'
The 'how to' is easy; any way you like. Hand it over once you walk in the door, bring it in a nice gift bag or you could even look into how to gift wrap a whiskey bottle and do something interesting. Whatever you decide, nobody is going to deduct points on how they receive a bottle of whiskey, unless you decide to use the word 'catch'.
In terms of what whiskey to buy, well look no further, Jameson has a wide range of Irish whiskies to suit. There's original all the way to Jameson 18 Years and everything in between. To see our whiskey-tasting notes, visit our Jameson Collection at Midleton Distillery Collection.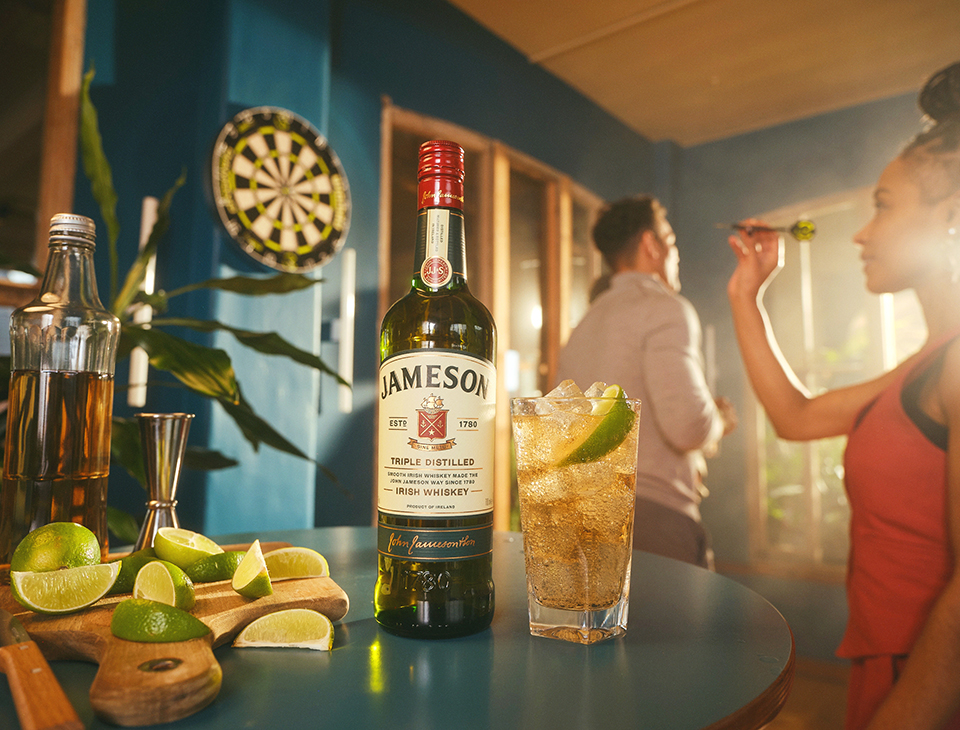 1. Jameson Whiskey Glasses Gift Set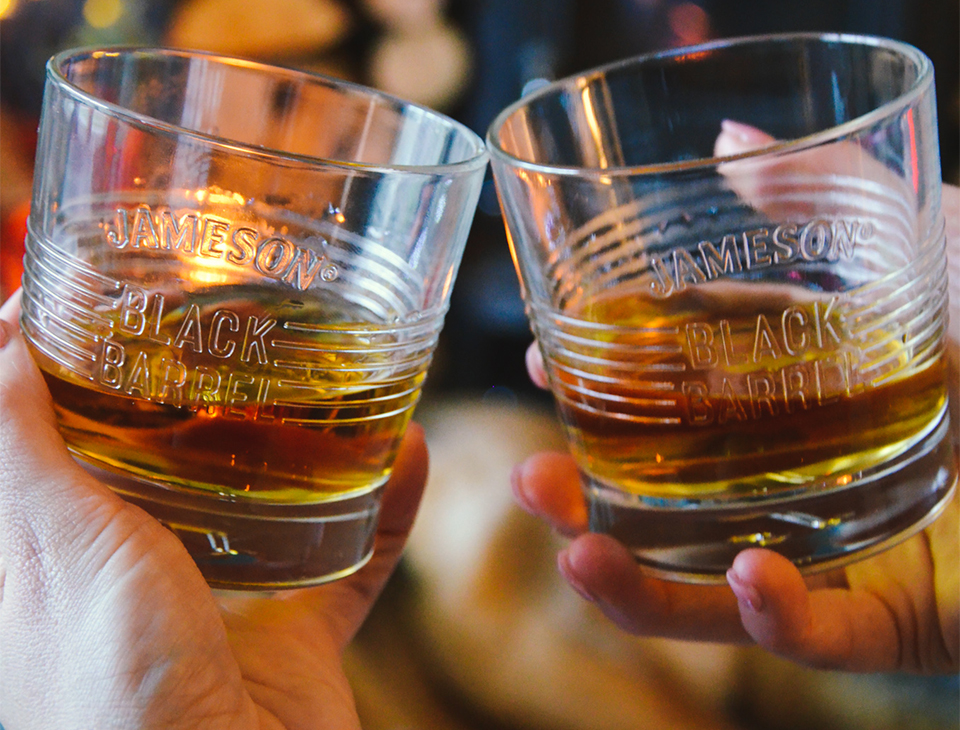 2. Whiskey Accessories Gifts to Take It to The Next Level
When it comes down to it, a drop of whiskey in a nice glass is what every whiskey lover is after. However, don't underestimate the power of ritual. Using a whiskey accessory like a nice whiskey jigger to pour a measure of whiskey, and having a sharp-looking coaster to rest a glass on is all part of an elevated experience.
For the Jameson Black Barrel enthusiast in your life, why not consider gifting them a stylish black barrel card holder or a sleek hip flask?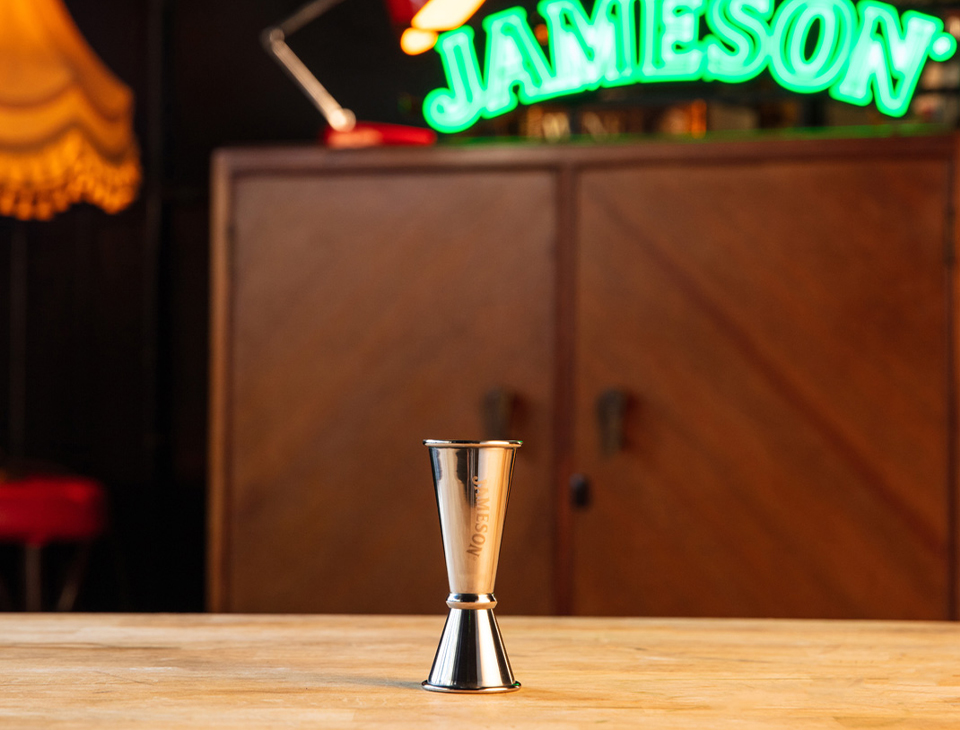 3. Whiskey Stones For A Chilled Out Gift
Whiskey stones are relatively new to the scene in terms of drinking paraphernalia, coming to popularity in the last 10 years or so. Whiskey stones are designed as an ice replacement; a way to chill a glass of whiskey without diluting it.
They come in a range of materials including metal, porcelain, granite, jade, and green Connemara Marble which, no surprise, is our favourite and are available to purchase from our website.
Just set them to chill in your freezer for a few hours and when you're ready, add to your favourite measure of whiskey in the new whiskey glass you received from your friend who is great at gifts; and you have a whiskey experience that would turn people green with envy to match the stones.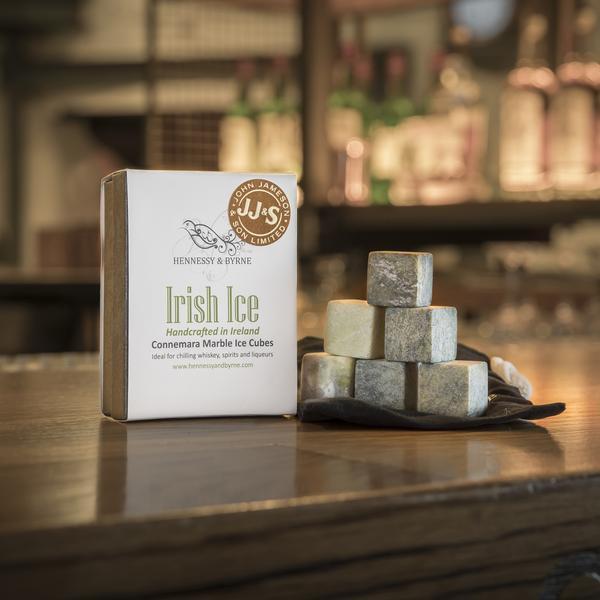 4. Rare and Unusual Whiskey Gifts
There are whiskey lovers and there are whiskey connoisseurs, and it only takes a few rare bottles for the former to become the latter.
Now you, yes you, can play your part in this transition by buying a rare and unusual whiskey for a whiskey lover, today! Jameson is part of the Midleton Distillery Collection which is home to a number of rare, distillery-exclusive, and single-batch whiskies. Have that person in your life in which whiskey collecting has become a bit of an obsession put you in their will, with a whiskey they never thought they'd taste.
5. Add A Personalised Touch For A Unique Whiskey Gift
It's nothing personal, it's just good whiskey. …but, what if good whiskey is personal?
In such a circumstance, as a supplier of great whiskey, it would behove us to offer a personalised Jameson whiskey for getting up close and personal with a whiskey lover. A custom whiskey for someone special, perhaps?
Probably no surprise then that we offer personalised Jameson bottles on selected Jameson whiskies, available through engraving or labelling for a whiskey gift that's more… oh, what's the word? …Unique!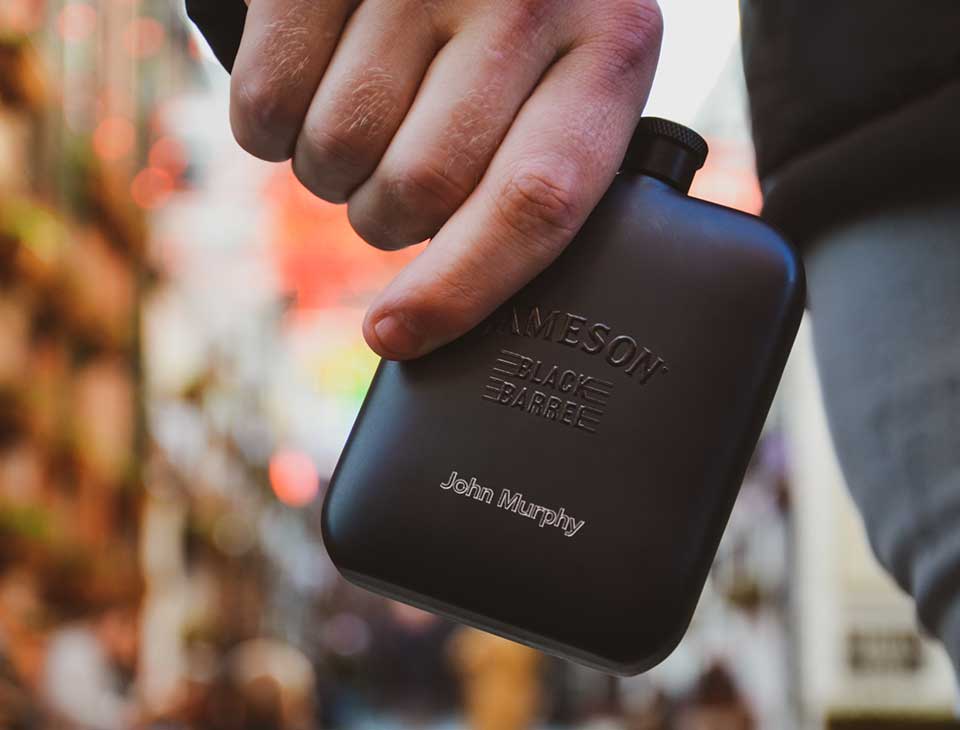 6. DIY Whiskey Cocktail Kits
Not everyone has a staunch whiskey purist in their lives. There are those who sample many of the liquors that lie further afield and enjoy marrying them into one drink! Yes, the amateur mixologist is a staple of many a friend group.
Of course, a mixologist needs their tools, and we have a host of barware to create the perfect cocktail kit to DIY many of the amazing recipes we have on our website; From a full Jameson Whiskey Cocktail gift set to individual pieces there in need of a replacement. Once set up, they'll have no excuse for not making whiskey cocktails like a whiskey sour, Jameson Ginger and Lime, or Irish coffee.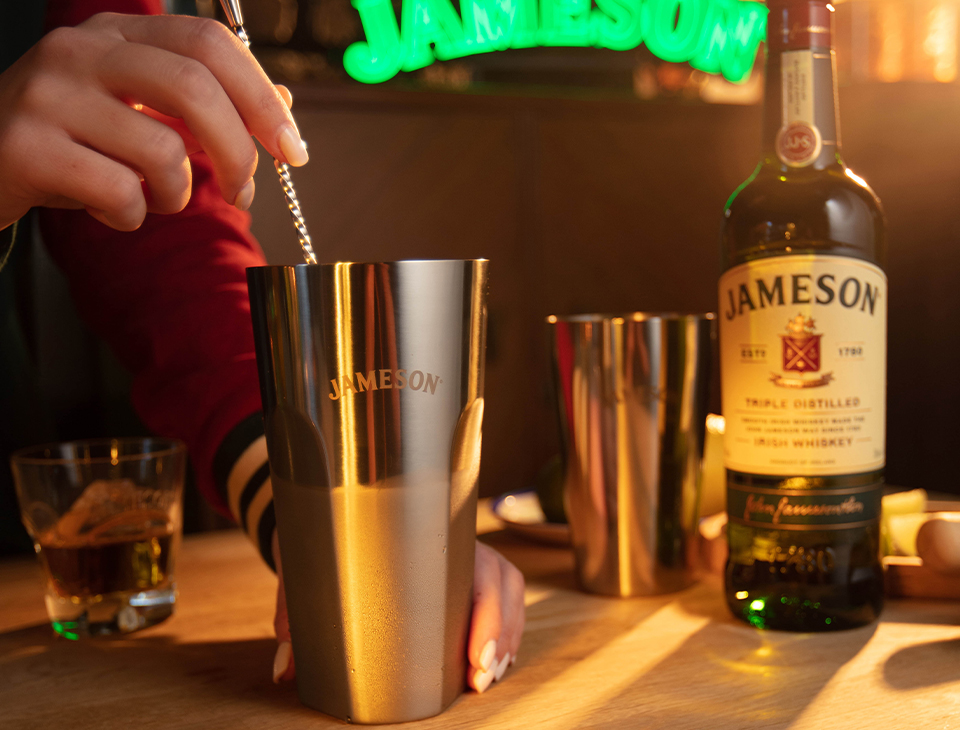 7. Whiskey Merchandise Gifts
Okay, they have the big stuff. Your whiskey-loving friend is up to their eyebrows in bottles and tumblers. What more could they want? Oh sweet naive shopper, whiskey appreciation isn't just a hobby, it's a lifestyle! Like, many's a sports fan, a whiskey devotee likes to represent with Jameson merchandise and memorabilia.
Who better to be repping than the world's no.1 Irish whiskey brand? Exactly. Our store is full of Jameson Whiskey Hoodies and accessories to beat the band. Although, you won't find a Jameson foam finger.. yet.
8. Gifts For An Old-Fashioned Lover
Ever since that madman Don Draper graced our screens, the popularity of the Old Fashioned cocktail has exploded among the masses, and why wouldn't it? Don was known for his good taste, and good taste is what an Old Fashioned is all about.
For a friend with good taste, the only solution is a cocktail kit for making Old Fashions at home and a bottle of Jameson Black Barrel. The slight sweetness of Jameson Black Barrel is so suited for an Irish Old Fashioned, that any advertising wannabes will completely forget that Mr. Draper liked his with Burbon and an undiluted sugar cube. Hmm. Try our version and you'll be saying 'Don, be gone!'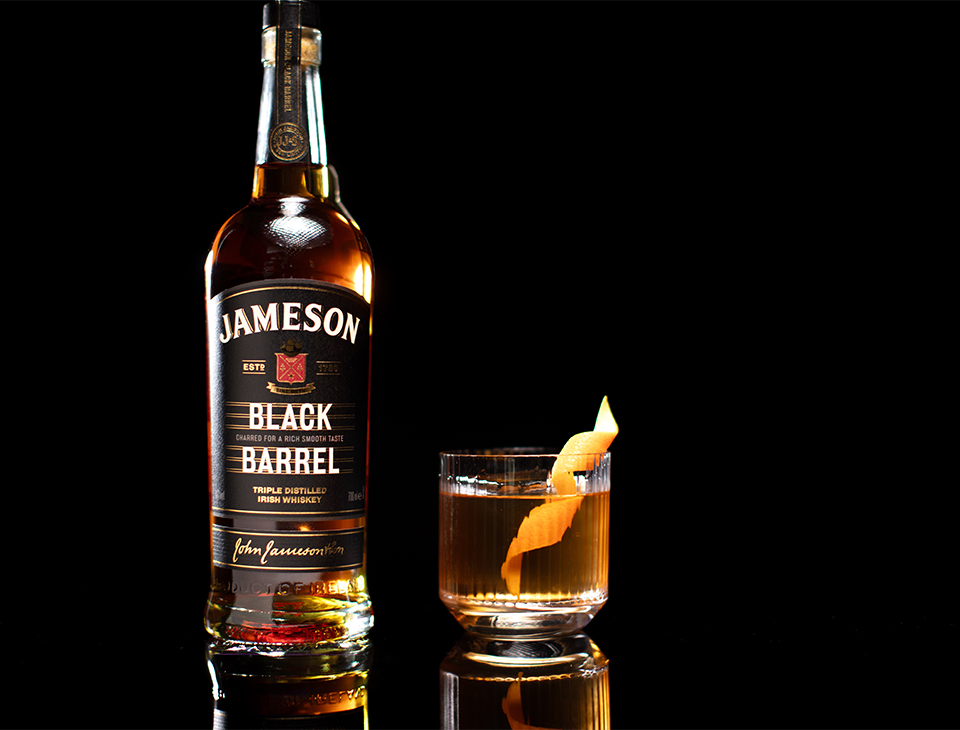 What Is A Good Whiskey To Gift?
Need we state the obvious? The choice really comes down to which Jameson are you going to gift, and that all depends on the person. Do they seek unique flavours like you might find in Jameson Orange or a collaboration such as Jameson Stout Addition? Of course, you can never go wrong with Jameson Original.
Whatever their preference we have a wide range in Jameson Family, which has all the tasting notes here. Alternatively, you can let us use our Circle of Taste! Just select our preferences and Circle of Taste will match the whiskey to your flavour profile! Technology is amazing, isn't it?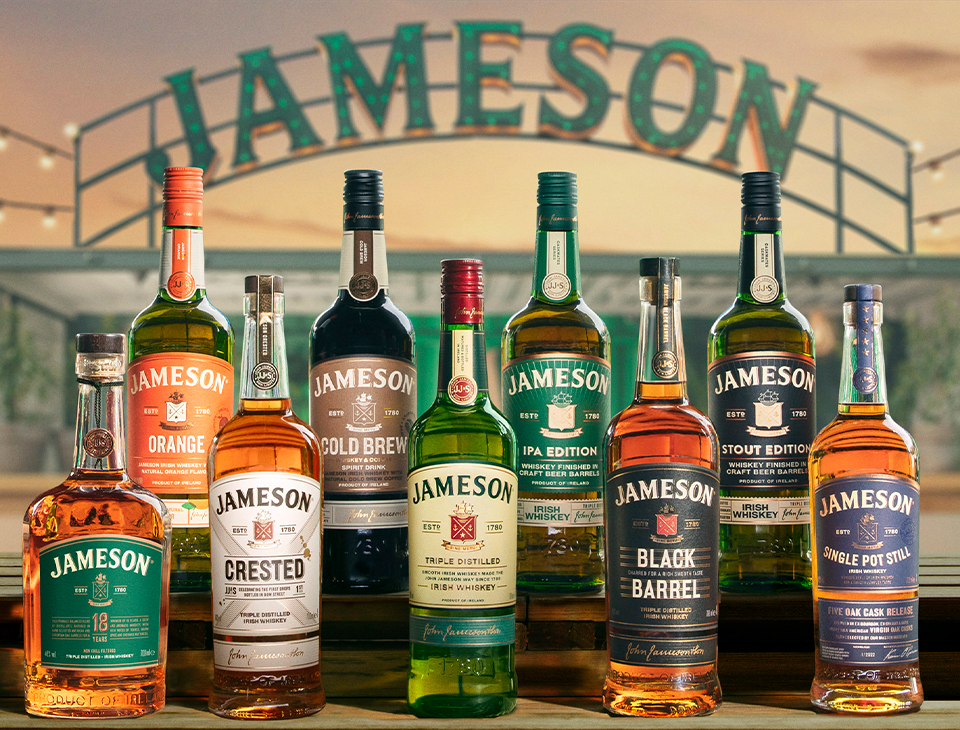 Whiskey Gifting FAQs
How to send whiskey as a gift?

Covered in bubble wrap and a sealed box via a trusted courier, or you can order online with Jameson and not have to worry about any of that.

We ship to the following countries: Republic of Ireland, United Kingdom (Northern Ireland, England, Wales, Scotland), Germany, Switzerland, South Africa, Australia, New Zealand, Singapore, Japan and China.
What to put in a whiskey gift basket?

At home bar equipment including whiskey Stones, a measure, a set of glasses, and a stack of coasters.. oh, and a bottle Jameson. Sorted
What goes with whiskey as a gift?

Good conversation and lasting friendships but, for anything material, see above.